This is an archived article and the information in the article may be outdated. Please look at the time stamp on the story to see when it was last updated.
Last week we announced the five finalists for The Car Connection Best Car To Buy 2023 award. The list of finalists narrows down the dozens of redesigned, new, or significantly refreshed cars for the 2023 model year, and prioritizes value, performance, efficiency, comfort, style, and safety against the roughly 265 new cars on sale now. The following 16 cars missed the cut, but are still noteworthy.
To qualify for our annual award, a car, SUV, or truck, has to be made available to our editorial team during or shortly after our Best Car To Buy testing in late October. That's why the Ford F-150 Lightning is a finalist for our 2023 award, because we didn't get to test it in time last year. While we've followed the market and increased our price threshold for consideration from $50,000 to $100,000, our TCC Rating system prioritizes value. (Read more about how we rate cars.) We're a tight-fisted bunch, and collectively bristle at the record-high transaction prices that have defined the 2022 new car market, so we advocate for that fundamental economic tenet of rational consumer behavior.
Here's why these cars missed the cut. We're still debating the merits of our five finalists, and will announce the winner, as well as the winners of our sister publications at Motor Authority and Green Car Reports, on Jan. 4, 2023.
Redesigned for 2022, the MDX three-row crossover SUV received a sport injection earlier this year with a Type S variant. Acura swaps out the 3.5-liter V-6 for a 3.0-liter turbo V-6 that makes 355 hp and 354 lb-ft of torque that hits 60 mph in less than six seconds. An adaptive air suspension and stiffer stabilizer bars make it handle like a vehicle half its size, yet in non-Sport modes it rides as comfortable if not more comfortable than the standard model. It's remarkable, even at a price of $68,545, but the narrow use case of a performance family hauler precludes it from our finalists.
2023 Audi A3, white, and RS 3, blue
Redesigned for 2022, the Audi A3 and performance RS 3 made it into our collective garages to be considered for our 2023 award. The entry-level Audi proved itself to have sporty handling, a peppy 201-hp 2.0-liter turbo-4 that goes 0-60 mph in less than seven seconds, but the technology in the base Premium is what earns its spot in the luxury class. The 2023 Audi RS 3, however, is a wild child on its own, with a 401-hp 2,5-liter turbo-5—that's right, five cylinders—that's spunky enough to earn a finalist nod for Motor Authority Best Car To Buy 2023.
This was an easy one to disqualify because no one will drive Chevy's mid-size pickup truck until early next year. The first redesign since the pickup was reintroduced for the 2015 model year, the 2023 Colorado has a bigger cab, more potent engines, and modern safety tech lacking in the current model. It could be a finalist for Best Car To Buy 2024.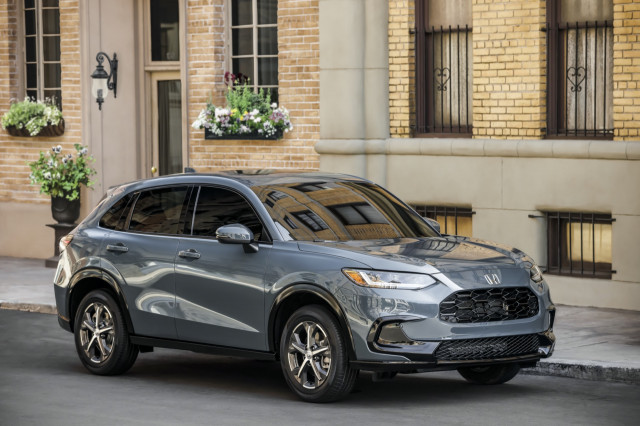 2023 Honda HR-V EX-L
Redesigned for 2023, Honda's smallest crossover grows into nearly CR-V proportions and excels in most things we prize, such as value (starts under $25,000), good standard safety and convenience features, and better looks than the first-generation HR-V. But it's turbo-4 and CVT are relatively inefficient at up to 28 mpg combined. The HR-V could be a winner with a hybrid powertrain.
2023 Hyundai Palisade
Like the Kia Telluride and Toyota Highlander on this list, the Hyundai Palisade received a mid-cycle refresh that spruced up the ends and upgraded the standard features, but it didn't improve on the winning three-row SUV enough to qualify as a finalist. Hyundai's largest vehicle and best people mover has charmed us since it launched in 2020, and the refresh furthers its appeal as a durable family hauler that creeps into the luxury class with options such as heated third-row seats.
2022 Hyundai Tucson PHEV
Redesigned for 2022, the Hyundai Tucson compact crossover comes in gas, hybrid, and plug-in hybrid options, with the PHEV arriving in the spring of this year. It didn't match the verve of the Toyota RAV4 Prime, but it's easier to get, and with a 1.6-liter turbo-4 and 6-speed automatic, paired with a single front-mounted electric motor and a 13.8-kwh battery pack, its 33 miles of electric range and overall efficiency make it a compelling small crossover option.
Kia EV6 GT-Line, red, and Hyundai Ioniq 5 Limited
Kia's electric crossover is another case of missed timing. Launched for 2022, the EV6 didn't come into our test circle until too late last year. It's a winner though, with a low roofline and lower ride height than the related Hyundai Ioniq 5, but its sporting appeal—especially in the 2023 Kia EV6 GT that goes 0-60 mph in 3.4 seconds—has limited value to most shoppers.
Kia's largest vehicle, a handsome three-row SUV, has been a perennial Best Car To Buy winner since it launched for 2020, and the mid-cycle refresh carries on its winning ways of luxury-like features at a mainstream price. The Range Rover-like styling remains, and Kia adds X-Line and X-Pro off-road grades this year, but it simply hasn't changed enough to be considered among all the new vehicles on our list of finalists.
2023 Mazda CX-50
The newest Mazda crossover takes a familiar step forward, much like the Mazda CX-30 small crossover that sized up, then replaced the smaller CX-3. The CX-50 will likely replace the CX-5, Mazda's bestseller, but Mazda tries to inject some off-road edge to the otherwise urbane CX-5, to mixed effect.
The best Mitsubishi on sale right now, the Outlander plug-in hybrid follows last year's redesign of its bestselling compact crossover with a vehicle that reorients the brand and showcases its potential as it shifts from combustion to electrification. The second-generation Outlander PHEV adds a small third-row seat to accommodate seven passengers total, a larger 20-kwh battery pack, more powerful motors, and 38-mile electric range. Mitsubishi equips it and finishes it like a premium crossover. It barely missed the cut for our finalists.
2022 Subaru WRX
The redesign rally-inspired sedan gets better by every measure, with a stiffer structure, better tuned dampers, and a 2.4-liter turbo-4 serving up 271 horses through a 6-speed manual transmission. The all-wheel-drive compact has always enticed younger buyers into the Subaru brand with its impressive handling and aftermarket tune-ups, but they might be encouraged to stay in the family with how well it rides. Just mind all the black cladding all over the bumpers, fenders, and rockers.
2022 Toyota Corolla Cross
Launched new for 2022, the Corolla Cross small crossover replaces the C-HR in Toyota's crossover lineup, but we expect it will be at its best when the Hybrid arrives early in 2023. The current model feels almost perfunctory, yet it right-sizes the European hatchback style of the C-HR. With all-wheel drive and an estimated 37 mpg combined, the Corolla Cross Hybrid should be another winner in Toyota's hybrid stable.
2023 Toyota Crown
Successor to the Avalon full-size sedan, imported from Japan, the new Crown rises up like a crossover yet is styled like a fastback. It's a puzzler, but it makes getting in and out easier than either a too-tall crossover or a low-sitting sedan. Yet those trade-offs compromise what's good about either of those body styles, lacking the roominess of a crossover and the better handling of a sedan. Shoppers can choose between two hybrid systems, and all-wheel drive comes standard.
2023 Toyota Highlander
Like the Hyundai Palisade and the Kia Telluride, the mid-cycle refresh of the always good Toyota Highlander three-row SUV is welcome, but not enough to place it at the top of our assessment. The big change is Toyota replacing the 3.5-liter V-6 with a 2.4-liter turbo-4 that makes 265 hp and 309 lb-ft of torque (the V-6 made 295 hp and 263 lb-ft), yet it can still tow 5,000 pounds. Curiously, fuel economy stays roughly the same at 24 mpg combined with AWD. The Highlander Hybrid remains the strong choice, with a 35-mpg combined rating with AWD.
2023 Toyota Sequoia
Last redesigned in 2008, Toyota's full-size SUV gets a welcome redesign with a standard hybrid powertrain shared with the 2022 Toyota Tundra full-size pickup truck. The 3.5-liter twin-turbo V-6 hybrid makes 437 hp and 583 lb-ft of torque, and four-wheel drive is an option to tow up to 9,250 pounds. It has an EPA rating of 22 mpg combined with RWD or 20 mpg combined with 4WD, which is better than the competition. The third row doesn't measure up to the roominess of rivals such as the Chevy Tahoe and Ford Expedition, however. Still, it's a huge improvement over its predecessor.
2022 Toyota Tundra
Redesigned in 2022 for the first time in 15 years, the Toyota Tundra pickup truck takes big steps in keeping up with the competition, including offering a coil-spring rear suspension and hybrid powertrain shared with the Sequoia, and introducing a top Capstone trim along the luxury lines of the F-150 Platinum and the Ram 1500 Limited Elite. But keeping up with rivals is not enough.
Related Articles