EIN Presswire | Newsmatics
Dusit Thani Dubai Achieves Milestone: Nearly a Million Plastic Bottles Saved Through Water Bottling Initiative
News provided by
EIN Presswire
Nov 21, 2023, 3:46 AM ET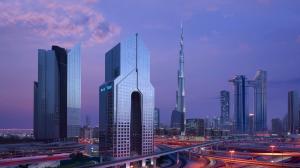 Dusit Thani Dubai Achieves Milestone: Nearly a Million Plastic Bottles Saved Through Water Bottling Initiative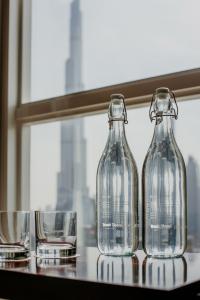 Dusit Thani Dubai Water Bottles in Rooms, Suites and Meeting Spaces
Dusit Thani Dubai Achieves Milestone: Nearly a Million Plastic Bottles Saved Through Water Bottling Initiative
We take meaningful steps to reduce single-use plastic, aligning with Dubai's vision & our Tree of Life Program, which reflects our dedication to fostering a more environmentally conscious future."
— Kishore Sathar, Director of Operations at Dusit Thani Dubai
DUBAI, UNITED ARAB EMIRATES, November 21, 2023 /
EINPresswire.com
/ --
Dusit Thani Dubai
, the iconic 5-star luxury hotel, maintains its leadership in sustainable hospitality with the continued success of its innovative water bottling system. This milestone reinforces the hotel's unwavering commitment to environmental responsibility and aligns seamlessly with the Dubai Government's vision for a sustainable and eco-friendly city, as well as Dusit International's Tree of Life Program.
Single-Use Plastic Elimination
Dusit Thani Dubai remains dedicated to eliminating single-use plastic materials across all operational aspects. As part of this commitment, the hotel's water bottling system, launched in 2022, has successfully produced a significant number of 1-liter water bottles. This sustainable approach has resulted in saving close to one million 500ml plastic bottles.
Dubai Government's Vision and Dusit International's Tree of Life Program
This initiative not only aligns with the Dubai Government's vision for a more sustainable and eco-conscious city but also stands in harmony with Dusit International's Tree of Life Program. The Tree of Life Program embodies Dusit Thani Dubai's dedication to environmental stewardship, community engagement, and innovative solutions, setting an inspiring example for the hospitality industry.
Mr. Kishore Sathar, Director of Operations at Dusit Thani Dubai, expressed enthusiasm about the continued success of the water bottling system, stating, "Our commitment to sustainability goes beyond rhetoric. With the continued success of our innovative water bottling system, we are taking meaningful steps to reduce single-use plastic, aligning with the Dubai Government's vision and our own Tree of Life Program. This initiative reflects our dedication to fostering transparency, community engagement, and a more environmentally conscious future."
Dusit Thani Dubai maintains its position at the forefront of sustainable luxury, providing guests with an exceptional experience that prioritizes both their comfort and the well-being of the planet. The ongoing success of the water bottling system is another testament to the hotel's commitment to innovation and leadership in environmentally responsible hospitality.
-end-
About Dusit Thani Dubai
Dusit Thani Dubai, an iconic 5-star luxury hotel, beautifully encapsulates the essence of Thailand within the lively heart of this cosmopolitan city, a true gem in the UAE. Strategically positioned just five minutes from Dubai's primary business hub and within a short stroll from the nearest metro station, the hotel is also conveniently located 15 minutes away from the airport. Noteworthy landmarks such as the Museum of the Future, Dubai World Trade Center, Dubai Financial Center, the Burj Khalifa (the world's tallest building), and The Dubai Mall (the world's largest shopping mall) are within easy reach from Dusit Thani.
Experience awe-inspiring views of Dubai's futuristic skyline while luxuriating in the serene ambiance of Thai elegance within the hotel's spacious rooms or suites. Indulge in a culinary journey with thoughtfully prepared dishes inspired by global flavors at any of the seven dining and entertainment outlets. Elevate your well-being with pampering and revitalizing spa treatments at Namm Spa, or unwind at the rooftop temperature-controlled pool.
In addition to its opulent offerings, Dusit Thani Dubai is unwaveringly committed to sustainability and wellness, integrating eco-friendly practices and holistic health initiatives into its ethos. The hotel strives to create an environment where guests can indulge in luxury while fostering a deep sense of connection to both the cultural richness of Thailand and the contemporary vitality of Dubai.
Location: 133 Sheikh Zayed Road, Dubai 23335
E: dtdu@dusit.com; T: 04 343 3333; M: +971 54 584 2229
Facebook: facebook.com/dusitthanidubai
Instagram: instagram.com/dusitthanidubai
About Dusit International
Established in 1948, Dusit International is a leading hospitality group listed on the Stock Exchange of Thailand. Building on its two core areas of business – Hotels & Resorts and Hospitality Education – the company has expanded its operations over the past four years to comprise five business units. The additional units include Foods, Property Development, and Hospitality-Related Services.
Today, the company's property portfolio comprises more than 300 distinctive hotels, resorts and luxury villas operating under six brands across 14 countries worldwide, as well as two leading hospitality colleges with campuses in Thailand and the Philippines. Following a three-pronged strategy for sustainable growth, including balance, expansion and diversification, the company has recently expanded into food production, on-demand hospitality services, and property development to reach new markets and add further recurring streams of revenue to the company.
For more information, please visit
www.dusit-international.com
Media Contact:
Ms. Danelle Ruth Palang, Director of Marketing – Dusit Thani Dubai
danelle.palang@dusit.com;
www.dusit.com
Danelle Ruth Palang
Dusit Thani Dubai
danelle.palang@dusit.com
Visit us on social media:
Facebook
Twitter
LinkedIn
Instagram
YouTube
TikTok
NOTE: This content is not written by or endorsed by "WMBD/WYZZ", its advertisers, or Nexstar Media Inc.
For inquiries or corrections to Press Releases, please reach out to EIN Presswire.