This is an archived article and the information in the article may be outdated. Please look at the time stamp on the story to see when it was last updated.
Which snow chains should you buy?
Road safety is always important, but driving during cold weather brings its own challenges. Snow and ice are hazards standard vehicle tires can't always overcome on their own.
Adding snow chains to your tires helps prevent skidding and sliding when driving in bad road conditions. But to ensure they're effective, you need chains that are suitable for the terrain and fit your tires correctly.
Types of snow chains
The types of snow chains you can buy mainly comes down to the chain material and different types of links.
Hardened steel: Hardened steel is usually less expensive and highly durable. But rust can develop on these chains more easily than on other materials.
Manganese nickel steel: This type of steel is lighter than hardened steel but just as strong. It's also less prone to rust.
Titanium alloy: Titanium alloy combines strength and durability with being lightweight. It won't get rusty, but it's more expensive than hardened or nickel steel.
Cables: Cable chains are made with relatively thin steel rollers. Since they don't have links, they are subtle and cause less discomfort while driving. However, they don't provide the same level of traction as linked chains.
Linked chains: This type of tire chain uses either twisted links or D-links to connect one piece of steel to the next. They give a lot more traction than cable chains, making them more suitable for deep snow or thick ice.
What to consider before buying snow chains
Clearance restrictions: Depending on the fit of your tires, some chains may be too thick to apply. Putting snow chains on tires that sit too close to the wheel arches can cause them to scrape against the car and cause damage. Vehicles with low clearance should stick to cable chains or check the fit of their chains before driving.
Tire size: Tires come in different sizes, and so do snow chains. It's essential that your chains fit the tires properly or you risk them coming off, damaging the chains or your tires. The size of your tires should be indicated on the wall of each tire. Make sure you select chains that are suitable for that size.
Road conditions: Snow tires should only be used when there is snow on the ground. In fact, even driving with chains in very light snow can damage the chains and your tires.
Terrain: If you're driving in an area with well-maintained roads, you may only need light cable chains. However, dirt roads can become more slippery and dangerous in the snow. In that case, consider more heavy-duty tire chains.
Chain pattern: Tire chains come in different patterns to provide various levels of traction and flexibility when turning. The ladder pattern is the most traditional, but you can also find diamond chains and full-pattern chains.
Fit type: With manual chains, you'll need to lay them on the ground and drive your tires onto them before tightening. More sophisticated chains have self-tightening features to make application much more straightforward.
Rim protection: Similar to clearance problems that can damage the tire well, some snow chains can harm the alloys on your tires. It depends on the type of alloys you have and the way the snow chains fit onto your wheels. But if your snow chains might scratch or scuff your alloys, you can pick up tire rim protectors to apply before putting them on.
Legal requirements: Putting chains on your tires may be required or illegal, depending on where you are. For example, it may be a requirement in winter if you're headed into a national park. Some states prohibit chains unless there's ice on the ground, because they can damage the roads' asphalt. In other states, you must use snow chains during bad weather, regardless of vehicle type. You can even get a hefty fine for not adhering to the rules. If you're driving somewhere unfamiliar, it's always best to check the local requirements before your trip.
Best snow chains to buy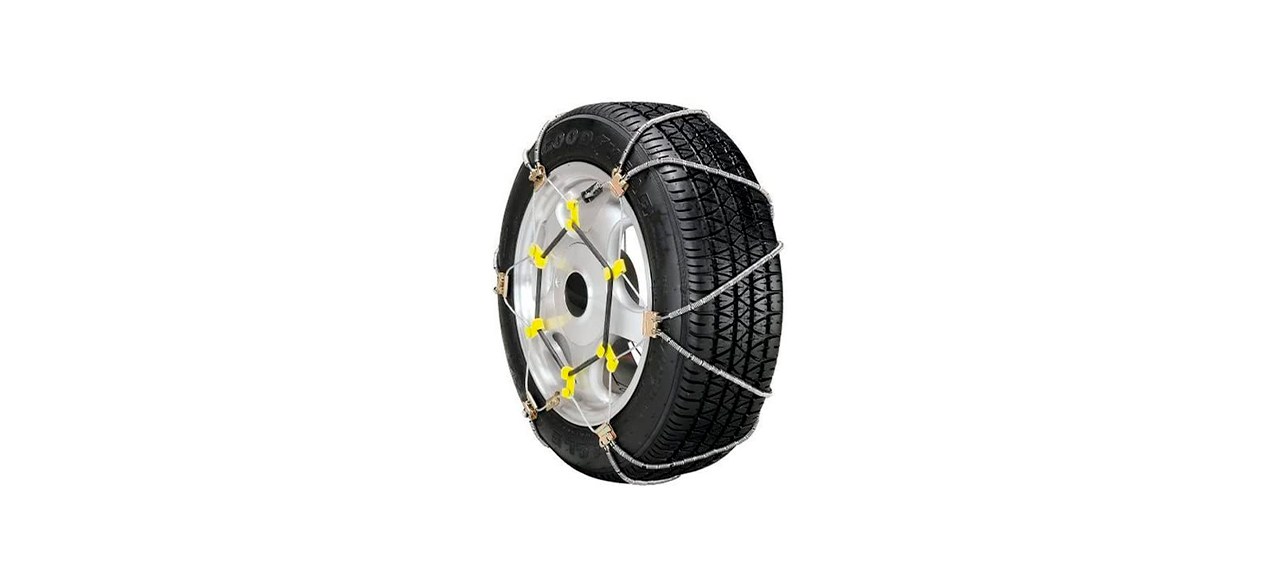 Security Chain Company Super Z6 Cable Tire Chain
These alloy steel cable chains are made for vehicles with restricted clearance around the tires. The split outside cable and fastening positions mean you can quickly install the chains without having to move the vehicle.
Sold by Amazon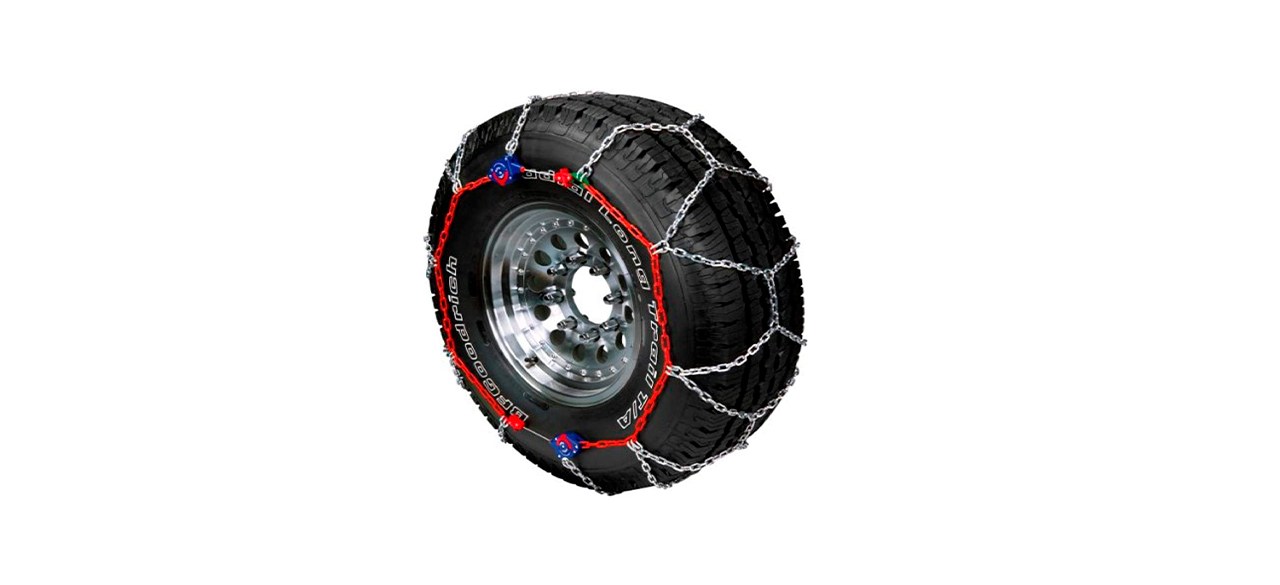 Security Chain Company Peerless Auto-Trac Light Truck/SUV Tire Chain
The self-tightening ratchets on these chains let them automatically tighten and center on the tire, so they stay in good condition longer and are less likely to slip. The diamond-pattern chain provides excellent traction.
Sold by Amazon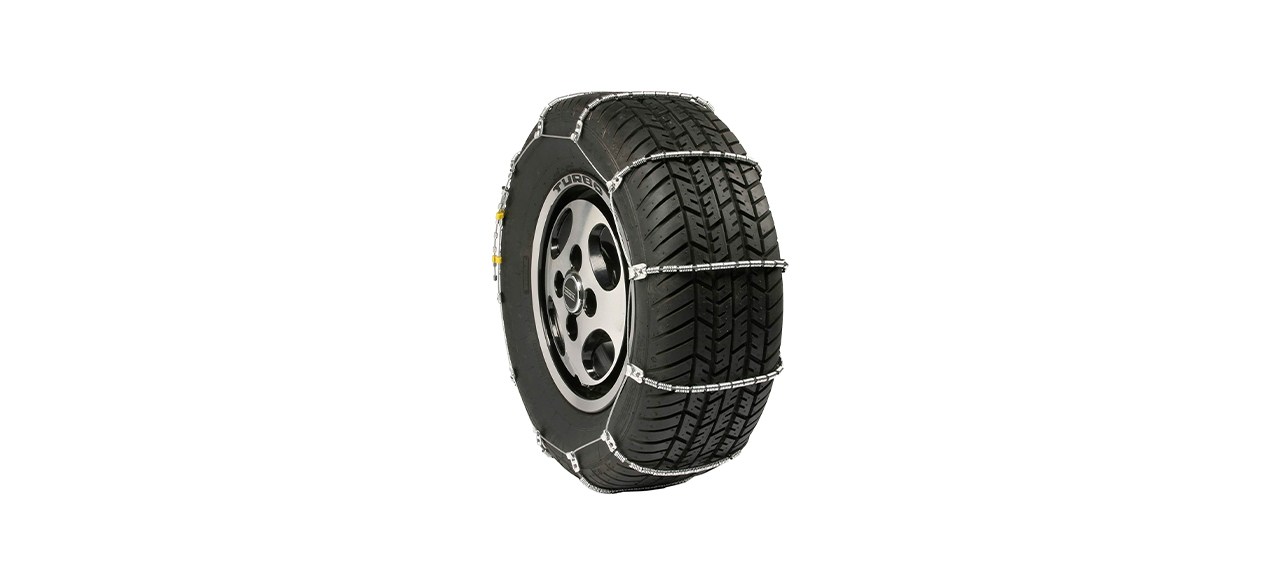 Security Chain Company Radial Tire Chain
These lightweight cable chains are great for passenger cars so you can still have a relatively smooth ride. They improve safety when driving over snow and ice, including taking corners.
Sold by Amazon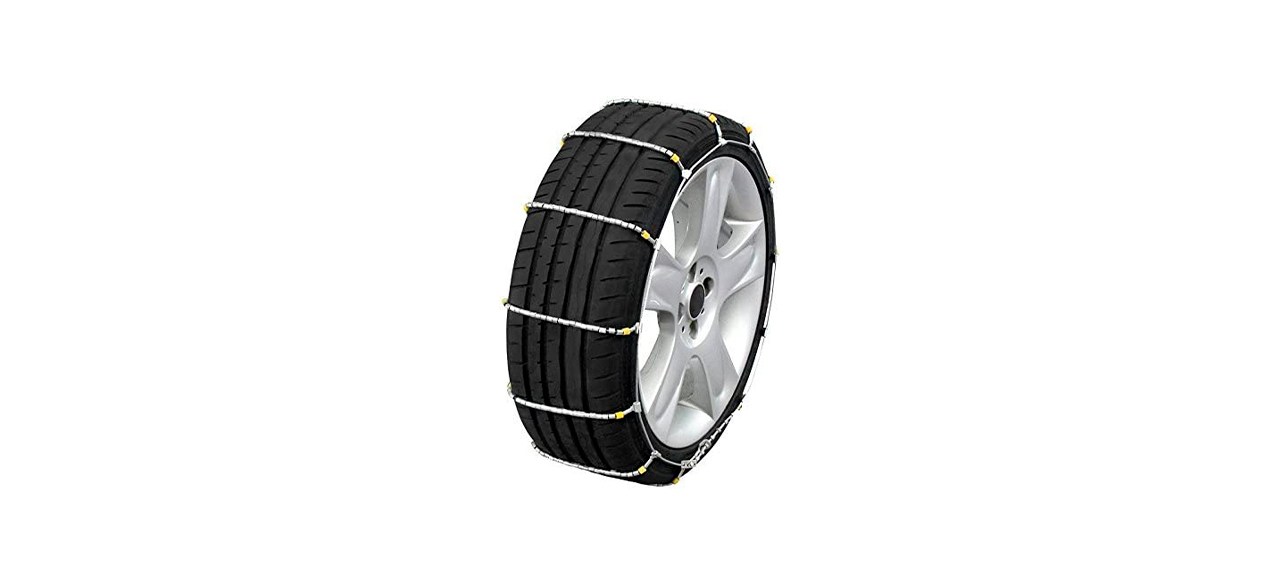 Quality Chain Cobra Cable Passenger Car Tire Chains
If you live in an area that only gets snow or ice on rare occasions, these affordable cable chains are handy to have in the trunk for an emergency. They're lightweight and easy to install, but you'll need to buy a tensioning tool separately to fit them on the tires.
Sold by Amazon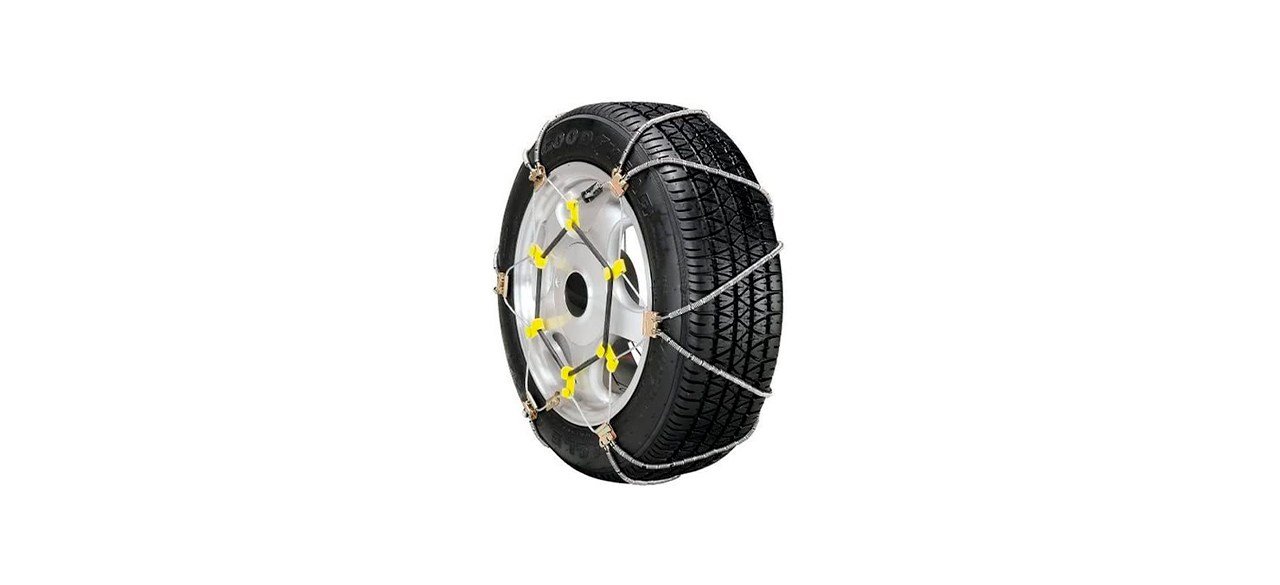 Security Chain Company Shur Grip Super Z Passenger Car Tire Chain
These cable chains are suitable for most passenger vehicles and include a rubber tightener for simple installation. The cables cross over your tires in a "Z" pattern to improve traction and performance.
Sold by Amazon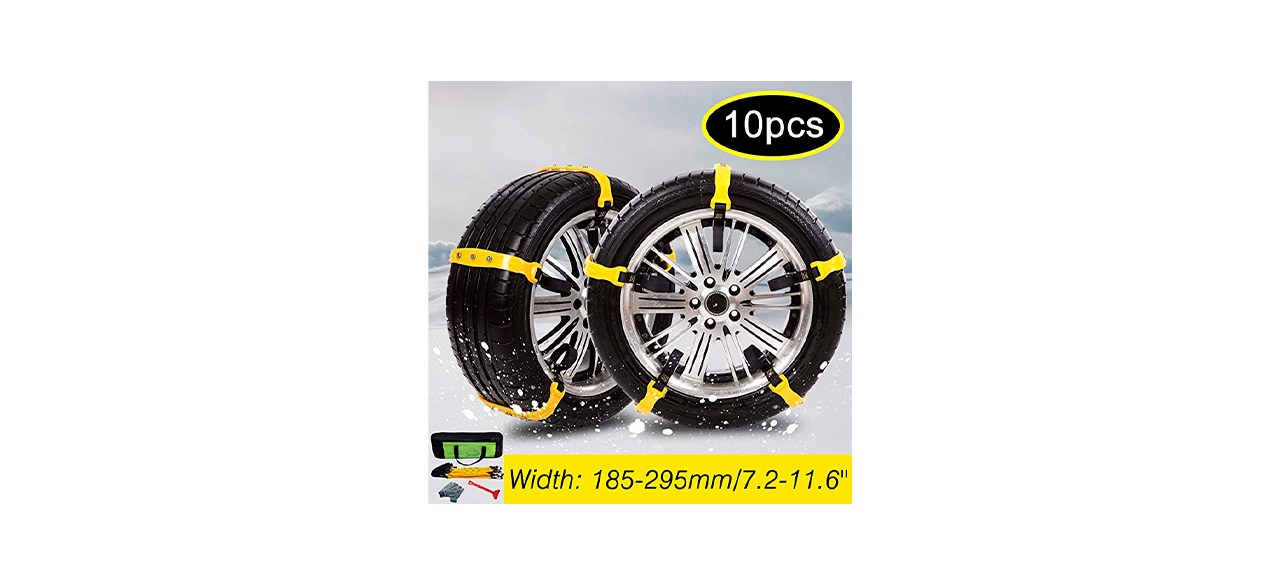 Aosuyou Adjustable Anti-Skid Snow Chains
Rather than wrapping around the entire tire, these chains consist of five adjustable straps that wrap individually around it. They're suitable for cars, SUVs and light trucks, and the hardened steel nails on the outside of the straps provide the traction needed in all kinds of snow cover.
Sold by Amazon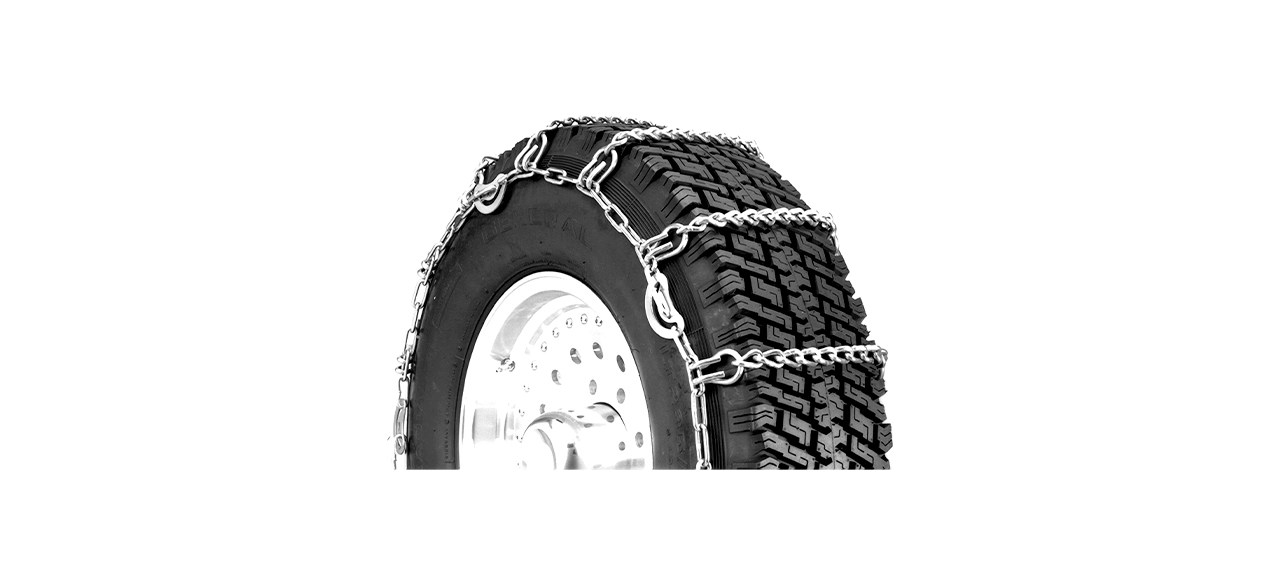 Security Chain Company Quik Grip Traction Chain
The durable square links made from steel alloy on these chains provide superior traction, making them ideal for extreme snow and ice. They're designed for use on large vehicles such as light trucks.
Sold by Amazon
Want to shop the best products at the best prices? Check out Daily Deals from BestReviews.
Sign up here to receive the BestReviews weekly newsletter for useful advice on new products and noteworthy deals.
Lauren Farrell writes for BestReviews. BestReviews has helped millions of consumers simplify their purchasing decisions, saving them time and money.
Copyright 2023 BestReviews, a Nexstar company. All rights reserved.