This is an archived article and the information in the article may be outdated. Please look at the time stamp on the story to see when it was last updated.
Best burp cloths
Burp cloths are small and made from soft fabric that's gentle enough for an infant's sensitive skin. They're usually used to protect your clothes from potential spit-up, which can cut down on laundry. However, you can also use them to clean up minor messes around the child's face, especially during feeding time. Their versatility and convenience make them essential for new parents.
What to know before you buy burp cloths
Absorbency
One of the most important factors when choosing a burp cloth is its absorbency. Generally, thicker fabrics can sop up liquid better than thinner ones. This does depend on a few things, though, such as:
Number of layers: Some cloths come with two or three layers or ply. If the cloth has a lower ply, consider getting a larger one and folding it for extra absorbency.
Material: Some of the most absorbent fabrics include cotton (pure, muslin, etc.), terrycloth, bamboo, flannel and microfiber polyester.
Softness
Babies tend to have very soft, sensitive skin, so it's vital that you find a burp cloth that isn't abrasive. Certain materials, such as cotton chenille and microfiber, are good choices since they're plush and gentle.
Hypoallergenic
Some infants are prone to skin irritation, rashes or allergies. If this is the case, choose a cloth made from hypoallergenic materials such as pure cotton or bamboo. Make sure any laundry detergent, shampoo and other hygienic items are also safe for your child's skin.
Shape and size
Burp cloths come in different shapes and sizes. Some look like hourglasses, perfect for lightly wrapping the cloth around your baby's neck and keeping spit up from getting everywhere. Others are square or rectangular.
As for size, choose one that can cover your child's shoulders and chest, even when folded. This makes it easier to prevent unnecessary messes. Look for one that's around 10 to 15 inches at least. For larger babies or more coverage, choose a cloth around 10 to 20 inches.
Dual-purpose
Certain burp cloths come with a hook and latch, which lets them double as bibs. Bibs serve a similar purpose, but they're designed to mitigate messes while the baby eats.
Color and pattern
Burp cloths come in nearly any color and pattern you can imagine. Common options include:
Solid colors, either neutral or bright, such as gray, black, white, blue, yellow, pink or green
Reversible with a different color or pattern on either side
Repeated patterns such as stripes, shapes, flowers, hearts or animals
Sets
It's possible to purchase burp cloths separately. This is usually a good idea if you want to replace an old one or have a specific style or brand in mind. However, you can also get them in sets of two to 10. Sets are best if you want them to match or consist of the same fabric.
Cleaning
Due to the nature of these cloths, they should be easy to clean. They can be hand-washed in lukewarm water using a mild soap that's safe for infants. However, most are also machine-washable, which is convenient if you have several spares.
When used for general burping purposes, you can get several uses from the cloth before needing to wash it or get a new one. If you use it to clean up food or other messes, prepare to replace it immediately.
Best burp cloths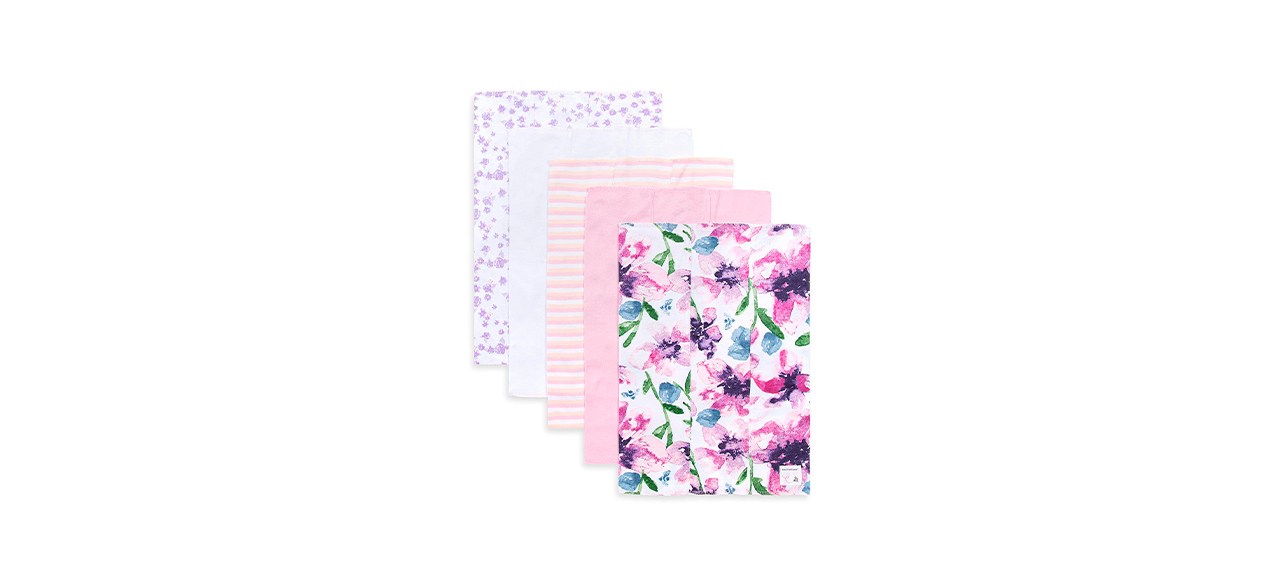 This set of five burp cloths is made from organic cotton that's hypoallergenic, soft and super absorbent. They're 17 by 12 inches each and are two-ply, so they're large and thick enough for general use. They also come in floral and light colors and patterns. Plus, they're machine-washable and you can use them on infants with highly sensitive skin.
Sold by Amazon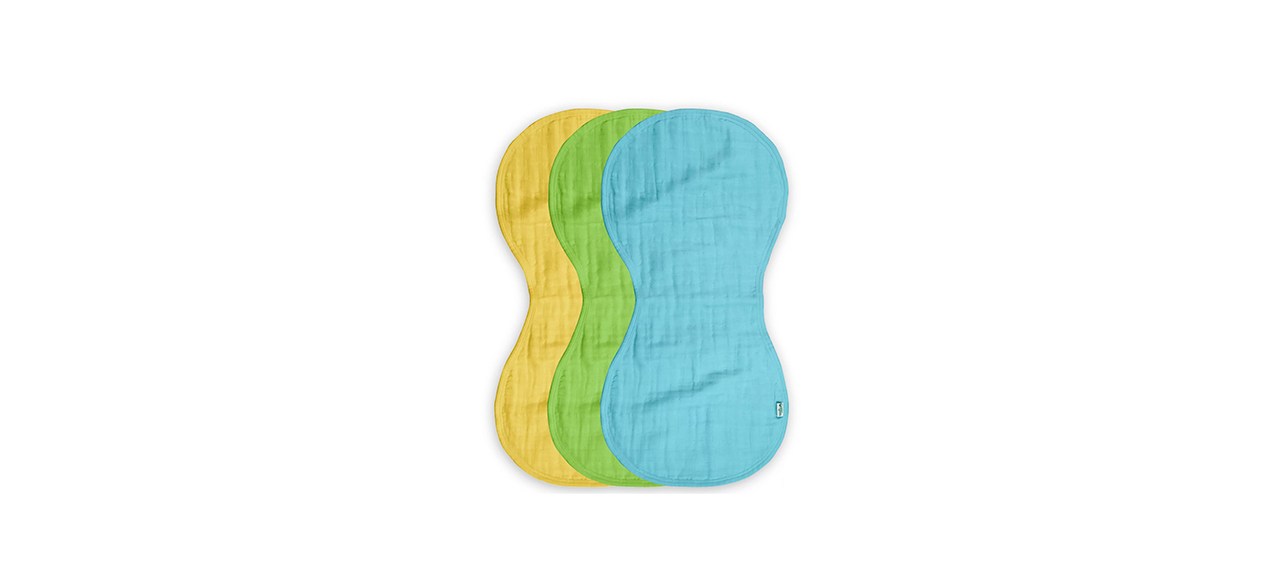 Green Sprouts Three-Pack Burp Cloths
Made from organic cotton muslin, these hourglass-shaped cloths are soft and gentle for babies. They have four layers, making them highly absorbent. They're also 8.5 inches long by 17 inches wide, so they can cover your child's neck and chin. They come in light blue, green and yellow and are machine-safe.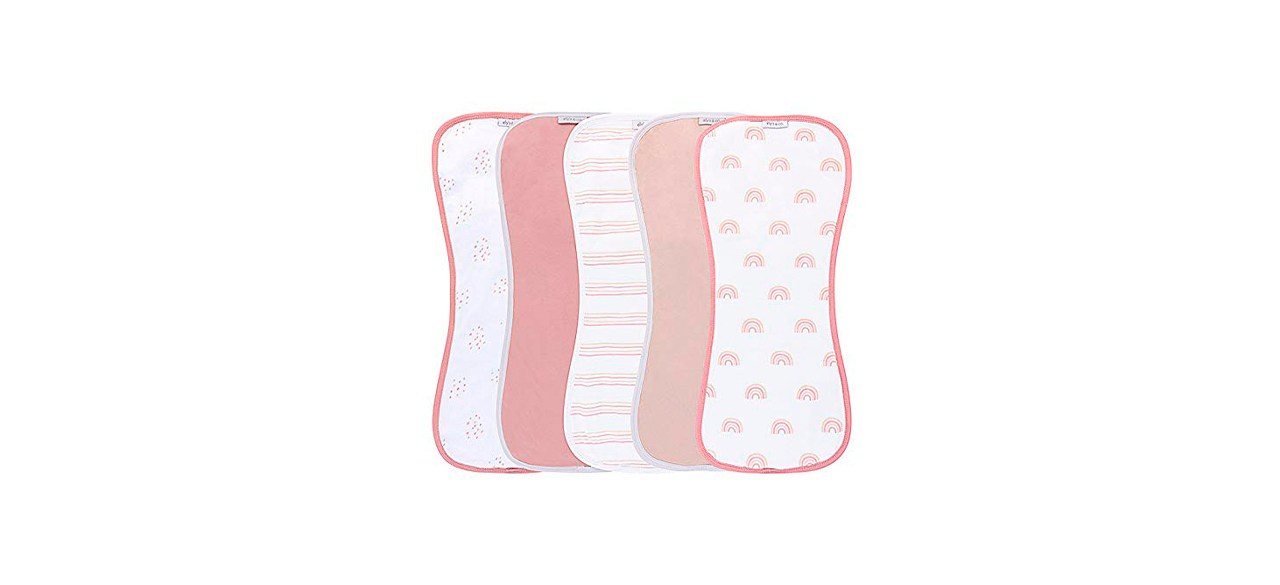 Ely's and Company Hourglass Fleece Burp Cloths
This set includes five cotton Jersey Knit cloths with polyester inner lining. They come in four colors, including pink and blue, and have striped, solid and rainbow patterns. They're soft, absorbent and gentle. Plus, they have an hourglass shape.
Sold by Amazon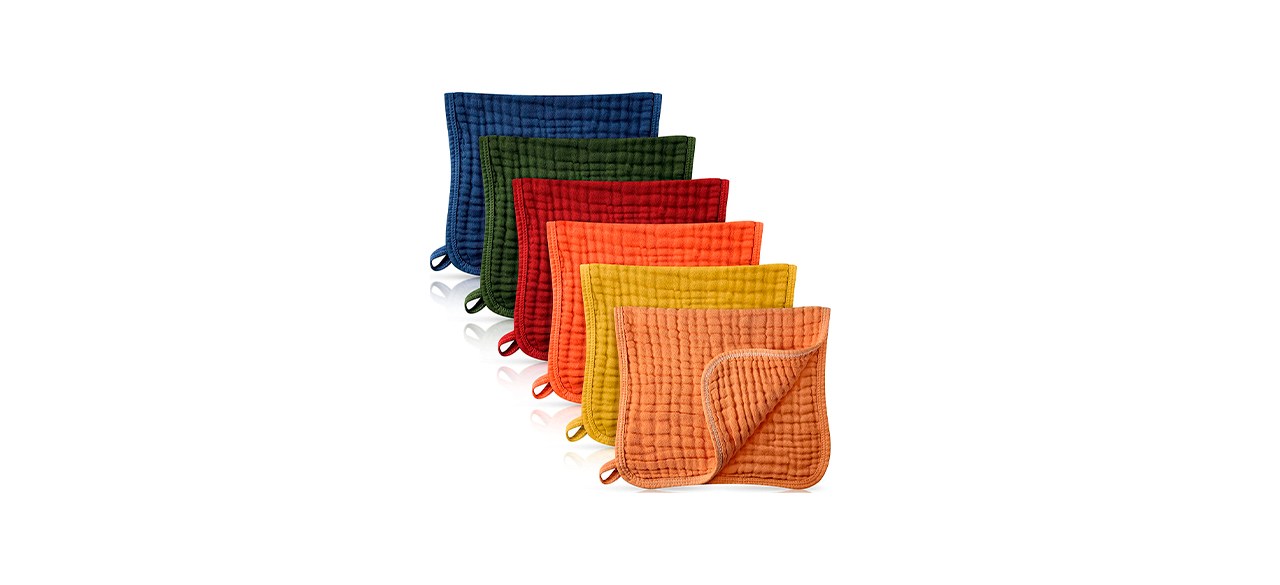 At 20 by 10 inches, these burp cloths are great at keeping your clothes from getting dirty and can be used to wipe away messes easily. They're made from organic muslin cotton and are breathable and absorbent. The set includes six cloths with 11 colors available.
Sold by Amazon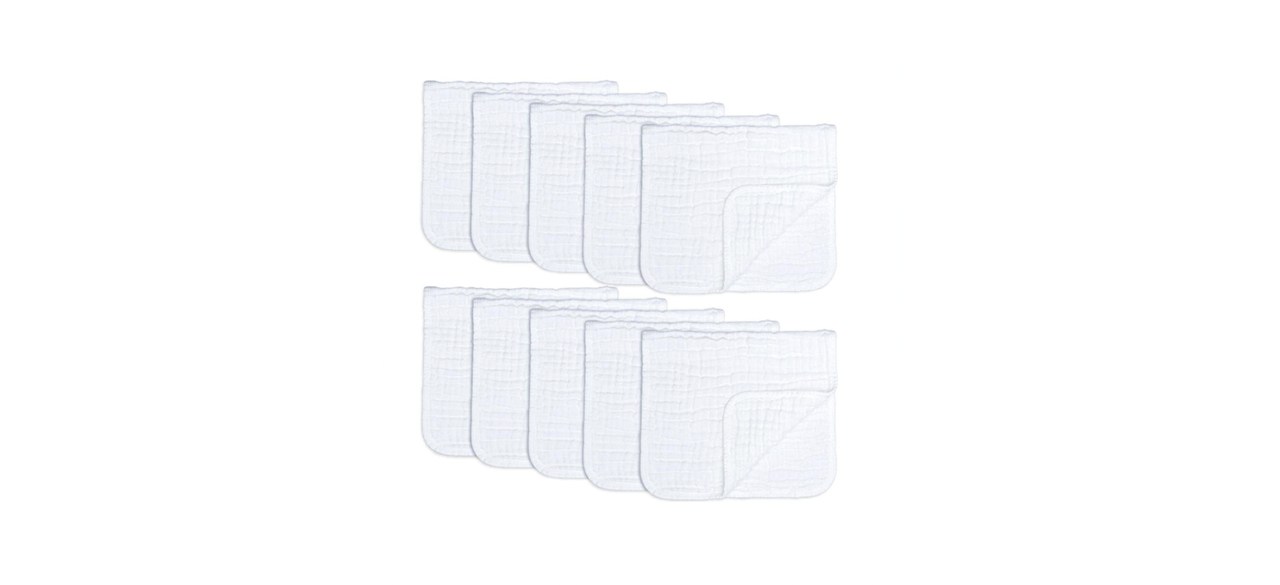 Comfy Cubs Muslin Burp Cloths, 10-Pack
With five colors, such as slate and sky blue, as well as the choice of a six- or 10-pack, these cotton cloths are highly versatile. They're cotton, so they're absorbent, soft and breathable. They also have six layers for extra comfort. Each one is 20 by 10 inches.
Sold by Amazon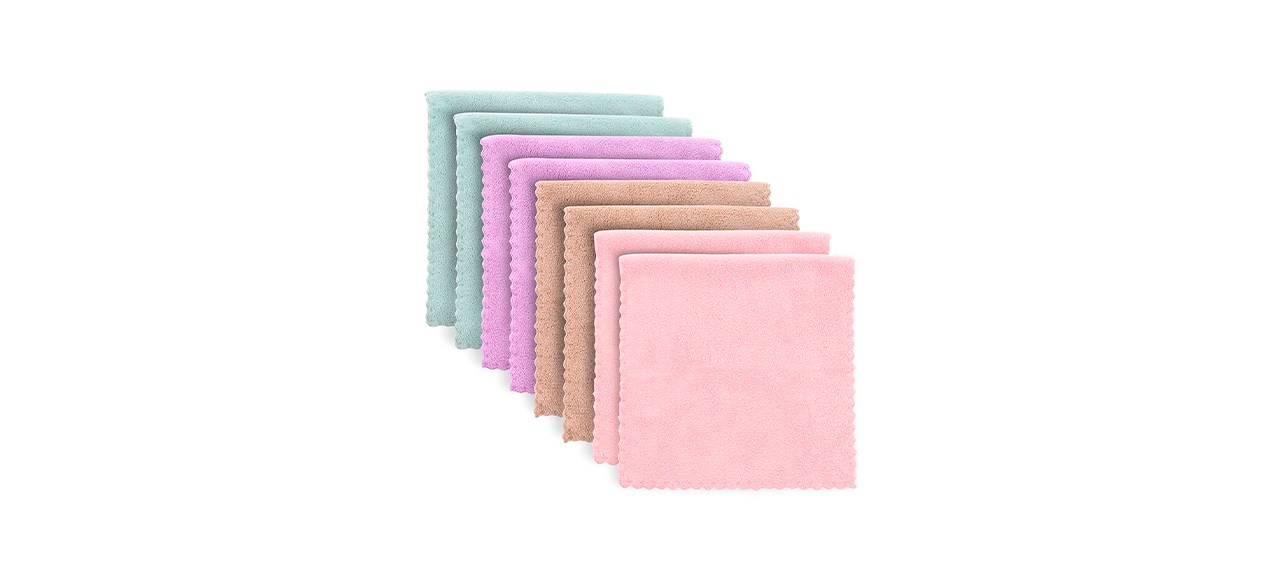 Bamboo Queen Super-Soft Burp Cloths
Available in either an eight or 16-pack, these burp cloths come in different colors, such as cream, blue, white and multicolored. They're made from coral fleece and are soft and absorbent.
Sold by Amazon
Want to shop the best products at the best prices? Check out Daily Deals from BestReviews.
Sign up here to receive the BestReviews weekly newsletter for useful advice on new products and noteworthy deals.
Angela Watson writes for BestReviews. BestReviews has helped millions of consumers simplify their purchasing decisions, saving them time and money.
Copyright 2023 BestReviews, a Nexstar company. All rights reserved.