BestReviews is reader-supported and may earn an affiliate commission. Details
FROM CLASSICAL TO COMEDIC, TODAY'S GNOMES APPEAL TO EVERYONE
IN THIS ARTICLE:
With the fantasy genre having firmly throned itself as a pop culture juggernaut over the last decade thanks to award-winning television shows, books and blockbuster film anthologies, it's no wonder people are finding a renewed appreciation for the whimsical. From faerie houses to ceramic dragons and swords, decor lovers in particular have been quick to indulge in creating scenes that spark the imagination.
As a result, garden gnomes have experienced a resurgence in popularity. These outdoor decor mainstays have kept up with the times and you can easily find sculptures that appeal to people interested in nostalgia, or statues designed to add a little unexpected edge to otherwise mellow settings and spaces.
A GNOME FOR EVERY GARDEN
Garden gnomes endure because of how effective they are at communicating the mood you want your outdoor space to have. There are two main styles of garden gnome to consider.
Traditional: Classically designed gnomes have a quiet, humble appeal that can transform a small butterfly garden into a calming oasis. They're based on ancient European folklore and are adorned accordingly. With their muted colors and cottage-appropriate garb, they leave the viewer with the impression that they're taking a peek into a gentle, secret world unburdened by the hustle and bustle of modern life.
Subversive: Conversely, manufacturers are eager to serve those who like to turn expectations on their heads, offering gnome variants that run the gamut from the unapologetically tacky to the outrageously comedic. With references to popular culture and a huge range of creatures, activities and interests to engage with, many of today's garden gnomes forego the subtle nature generally associated with them in favor of bright colors, slapstick humor and raunchy characters that beg for attention.
BEST GARDEN GNOMES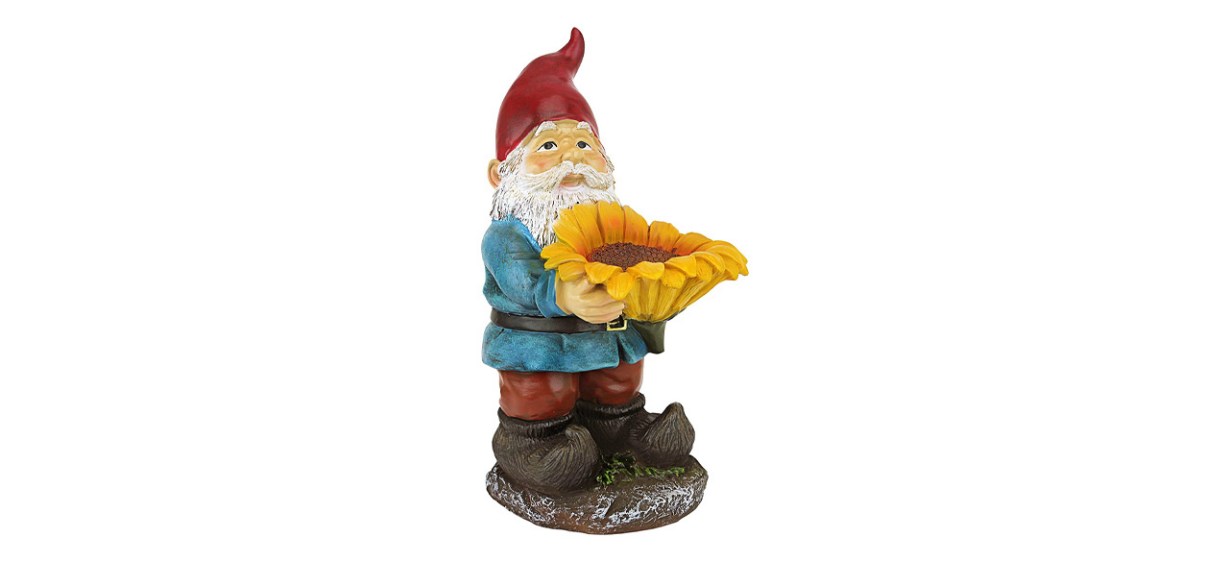 Design Toscano Sunflower Sammy Garden Gnome
Bright, lively and traditionally designed, this gnome holds a brilliant yellow sunflower. While this statue is appropriate as a piece of yard decor as is, the flower's concave design can also function as a birdseed holder, bringing an added layer of natural whimsy to your porch, garden or deck.
Sold by Amazon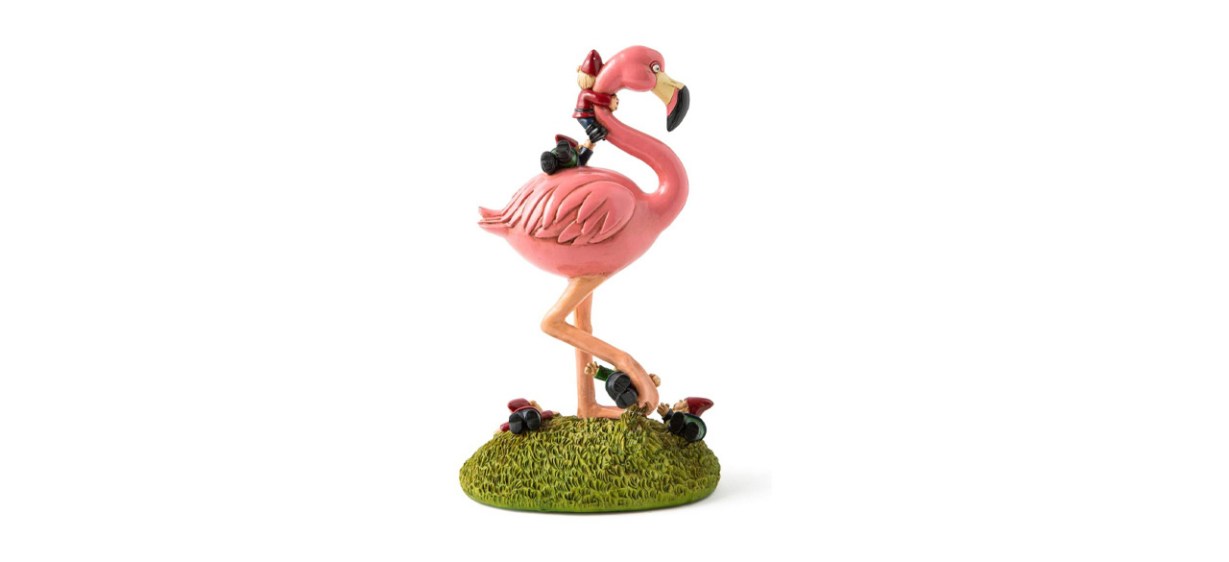 BigMouth Inc. Flamingo Garden Gnome
Combining two classic lawn decor items in one hilarious package, this statue depicts a flamingo engaged in an epic battle with a group of diminutive gnomes. Generously sized at nearly 14 inches tall and made out of lightweight material, this sculpture is an irresistible conversation starter.
Sold by Amazon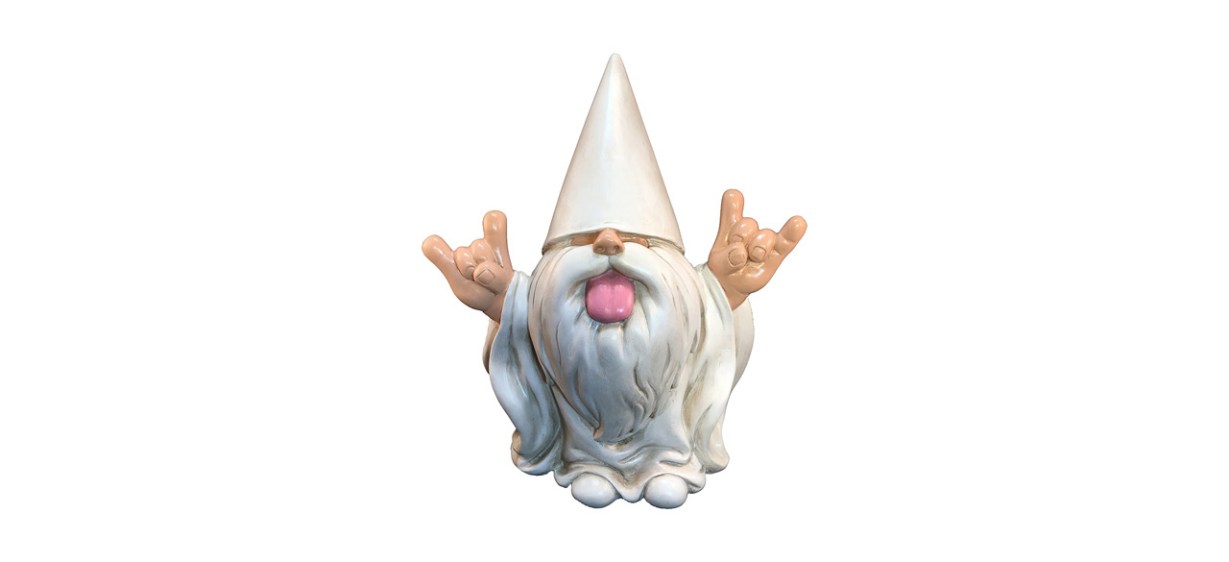 GlitZGlam "George" Rocker Gnome
If you think all gnomes prefer lutes, harps and bells, this horns-throwing, tongue-protruding metalhead will prove you wrong. At 10 inches in height, George the Rocker appears traditional at first glance with his white beard and robes. However, his posture and attitude reveal that the gardener responsible for buying him appreciates Pantera as much as pansies.
Sold by Amazon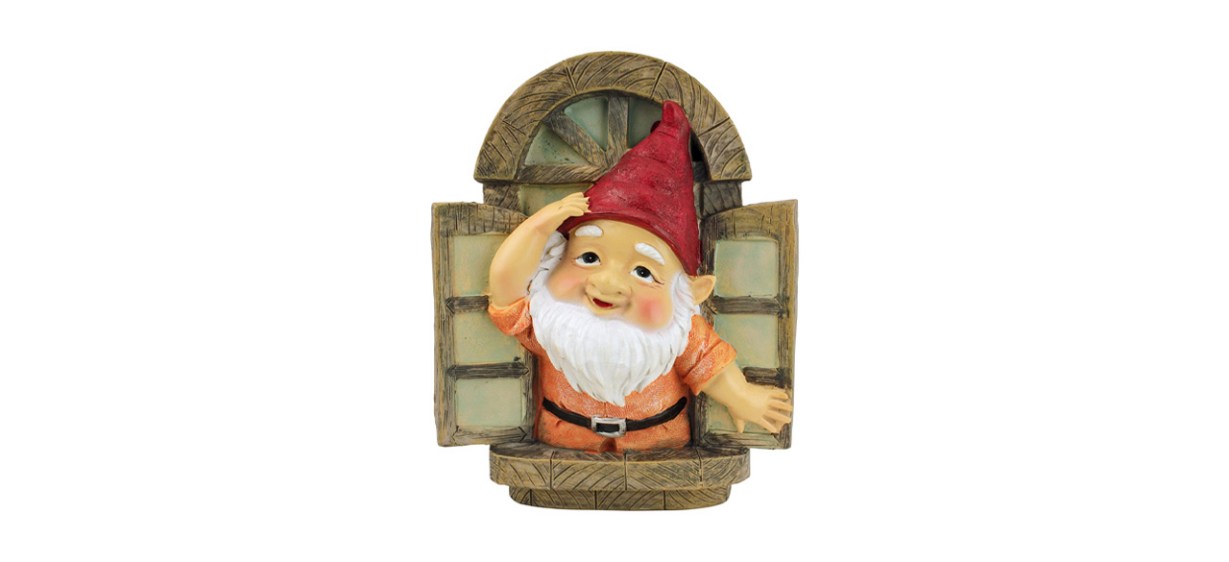 Though gnomes are usually set on the ground, this statue bucks convention with a keyhole slot on its back that lets it hang against any vertical surface. From tree trunks to barn walls, this character's happy demeanor and friendly grin transform anything he hangs from into a dwarf dwelling.
Sold by Amazon
Teresa's Collection Garden Gnome with Solar Light
This gnome holds a lantern in his hand that absorbs sunlight by day and glows with an LED by night. His mossy hat and robe give him an ancient earthiness, and at 13 inches tall, he can be seen over many small plants, rocks and flowers.
Sold by Amazon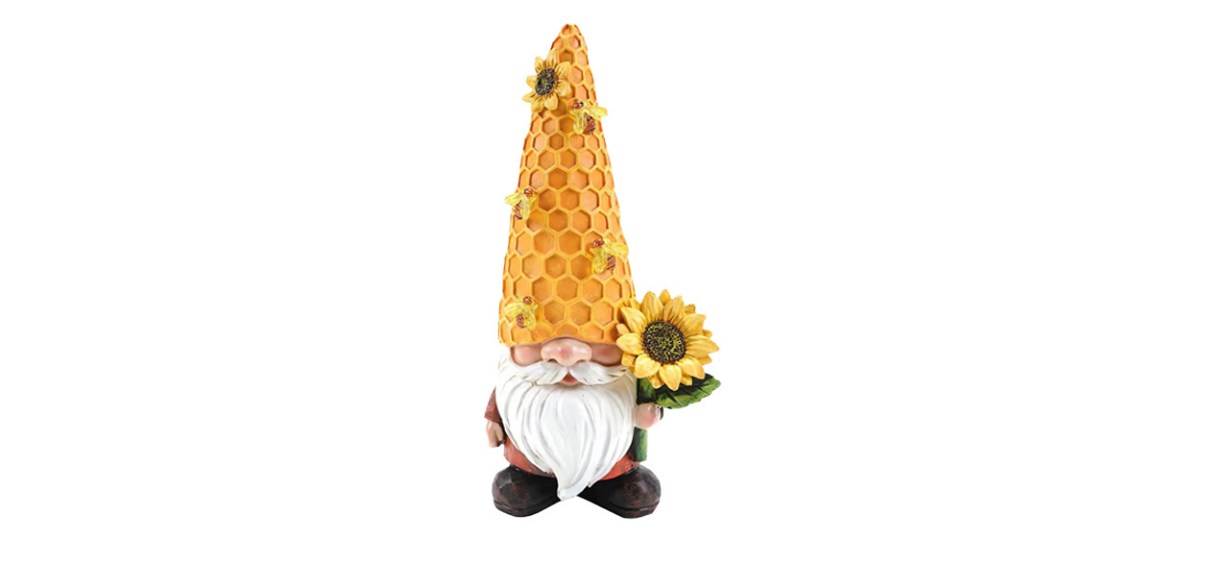 Wearing a honeycomb hat covered in LED bees, this gnome emits an amber-colored glow at night after absorbing the sun's energy via a solar panel on his back. It's a great addition to gardens rich with flowers frequented by bees and other pollinators.
Sold by Amazon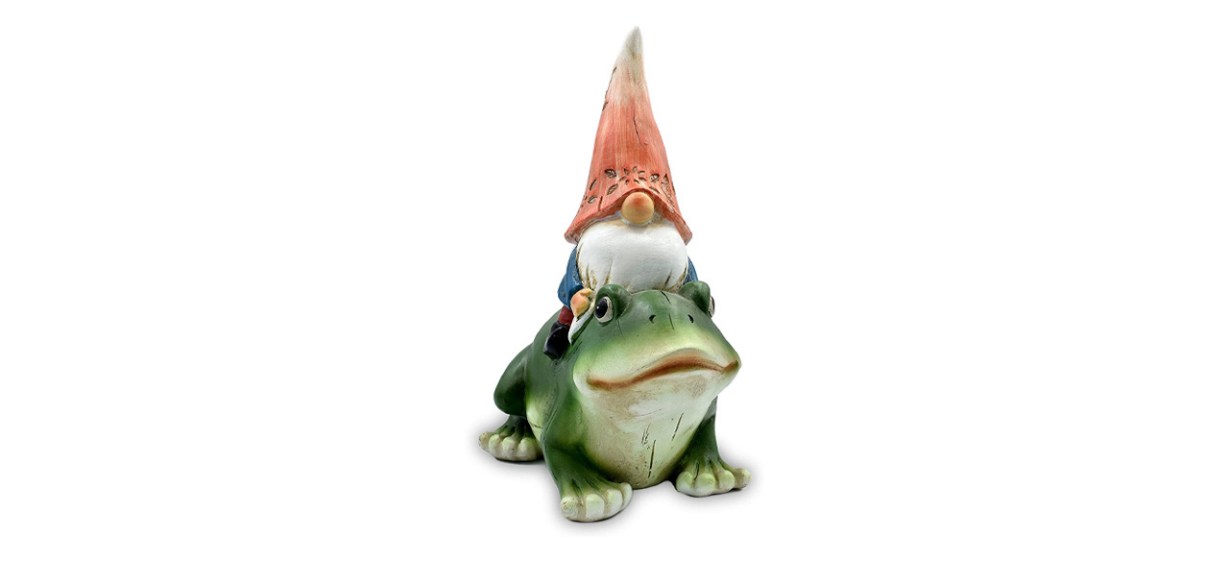 Hazel & Birch Toad-Riding Gnome
This decoration is hand-painted, giving it a rustic, aged appearance in spite of its weatherproof resin casting. Tastefully designed, this statue's 7-inch height makes a subtle impression, and even those who typically aren't fans of garden gnomes may be taken in by its depiction of a gentle creature atop his amphibious steed.
Sold by Amazon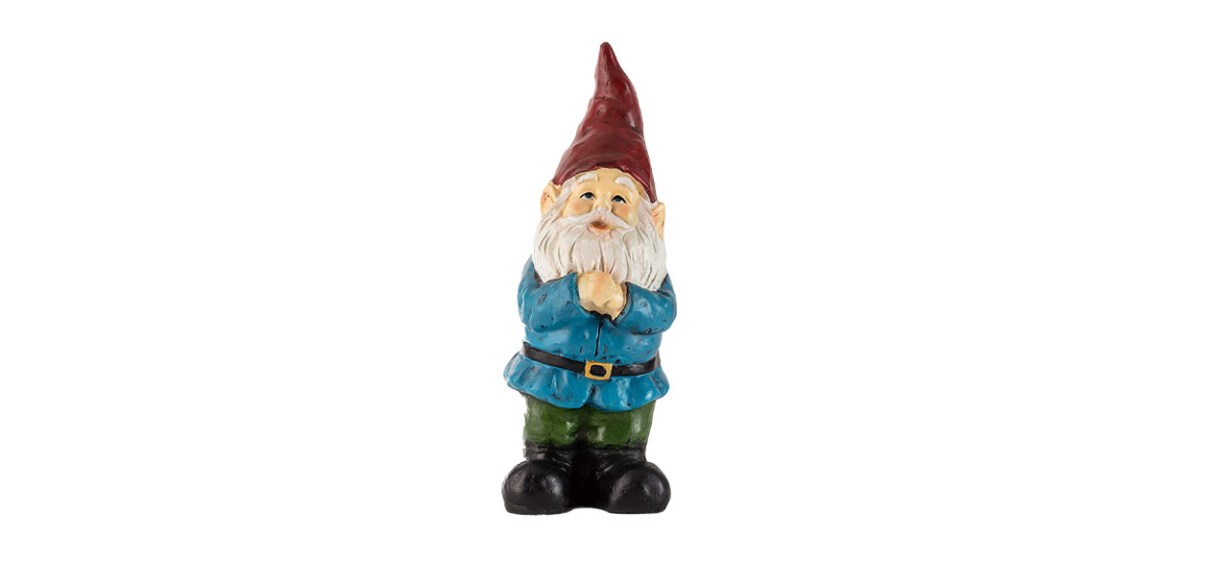 Alpine Corporation Red Hat Garden Gnome
Those interested in the most traditional decor available will find that this sculpture calls back to the gardens of yesterday. The gnome's red hat, oversized belt buckle, jolly white beard and blue shirt tick all the boxes one would expect when imagining this classic character.
Sold by Amazon
Want to shop the best products at the best prices? Check out Daily Deals from BestReviews.
Sign up here to receive the BestReviews weekly newsletter for useful advice on new products and noteworthy deals.
Derek Walborn writes for BestReviews. BestReviews has helped millions of consumers simplify their purchasing decisions, saving them time and money.