This is an archived article and the information in the article may be outdated. Please look at the time stamp on the story to see when it was last updated.
Which is the better water flosser?
Often referred to as oral irrigators, water flossers provide an alternative to traditional flossing. They use pressure to send out a constant stream of water that dislodges and removes bacteria and plaque. When used alongside a good brushing routine, this can also help improve bad breath and prevent bleeding gums.
Oral-B and Burst both have a line of water flossers that perform a similar function. However, the overall design and way they do this differ between the two brands. When deciding which to go with, consider the cleaning power, effectiveness and any additional features.
Oral-B water flosser
Part of Procter and Gamble, Oral-B was founded around 1949 by Dr. Robert W. Hutson. He designed the first Oral-B toothbrush and named the different versions based on the number of nylon bristles they had. Nowadays, the brand has everything from electric toothbrushes to toothpaste to water flossers.
Oral-B water flossers are larger than others. They come with innovative jet streams and have three settings: sensitive, medium and intense. They also have a button that lets you trigger a burst of water to flush out any food debris or loosened plaque. These oral tools also come with Oxyjet Technology, which incorporates tiny bubbles of air into the water stream to better remove particles and clean the teeth and gums.
The oral irrigators also have different nozzles, such as the Aquafloss nozzle and the Precision Jet nozzle, so you can customize how you use them. Similar to other water flossers, they come with a refillable water reservoir and a rechargeable station.
The average cost of an Oral-B water flosser is $90-$200.
Oral-B water flosser pros
It comes with Oxyjet technology to help eliminate plaque, resulting in healthier teeth and gums.
The different streams and intensity settings make for a more customized cleaning experience.
There are three flossing modes, as well as an on-demand button.
The nozzle is replaceable, so you don't need to buy a new water flosser.
It has a convenient charging station and a long-lasting battery.
Despite being large, it's lightweight.
The device is easy to use.
Oral-B water flosser cons
It can feel clunky or too big, especially for those with smaller hands or mouths.
The nozzle design can make it difficult to position the device.
The different models are all relatively similar, despite some being at a higher price point.
Some don't have the most durable construction.
Best Oral-B water flossers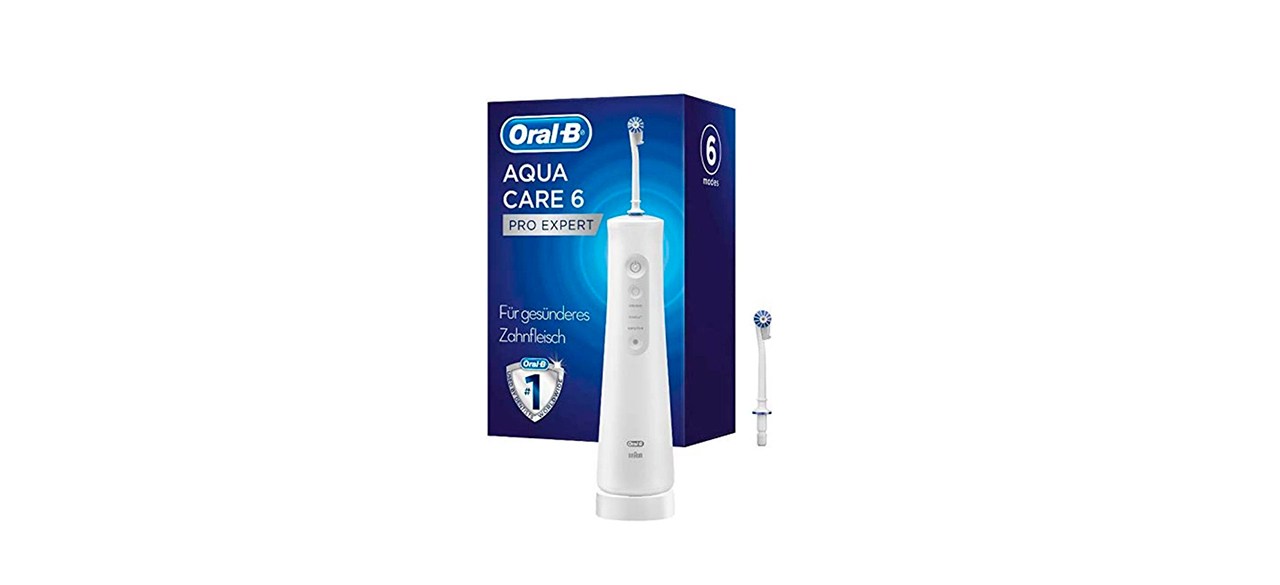 Oral-B Aqua Care 6 Pro Expert Dental Water Jet
This oral irrigator comes with Oxyjet technology for a deep clean. It has three stream intensity settings and an on-demand button for when you need to go over your teeth and gums quickly. The device effectively removes tiny food particles and plaque to improve oral hygiene. It also has a built-in water reservoir and is rechargeable and cordless.
Sold by Amazon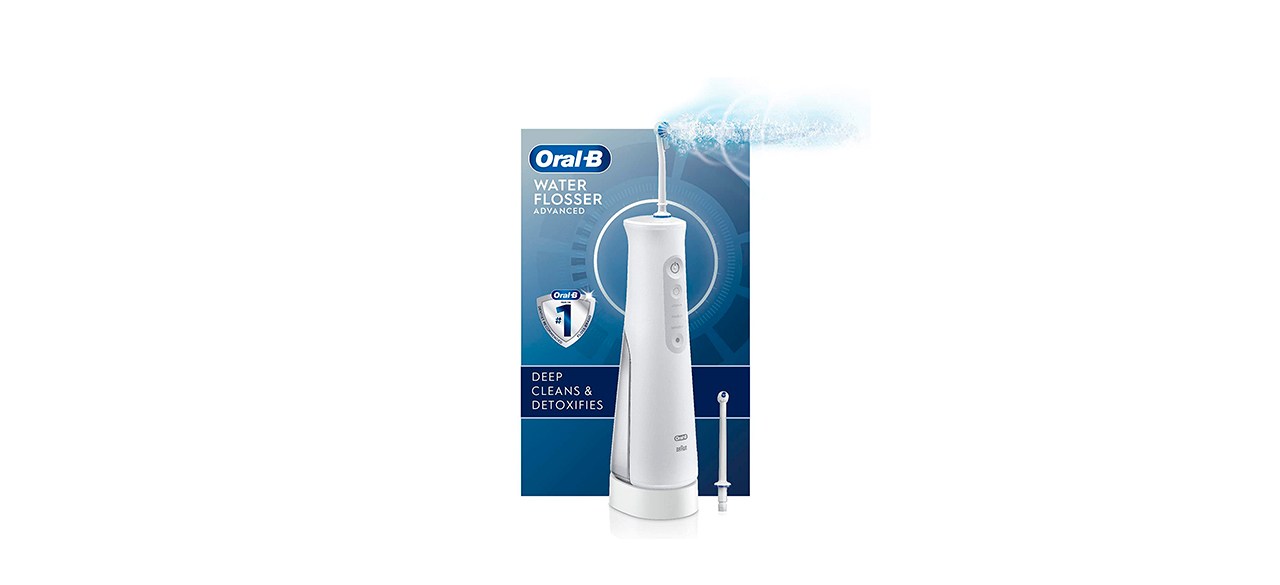 Oral-B Water Flosser Advanced With Two Nozzles
This cordless device comes with a charging station and is portable, making it convenient to use at home or while traveling. It has an Aquafloss and a Precision Jet nozzle for targeted cleaning. It also has three flossing modes.
Sold by Amazon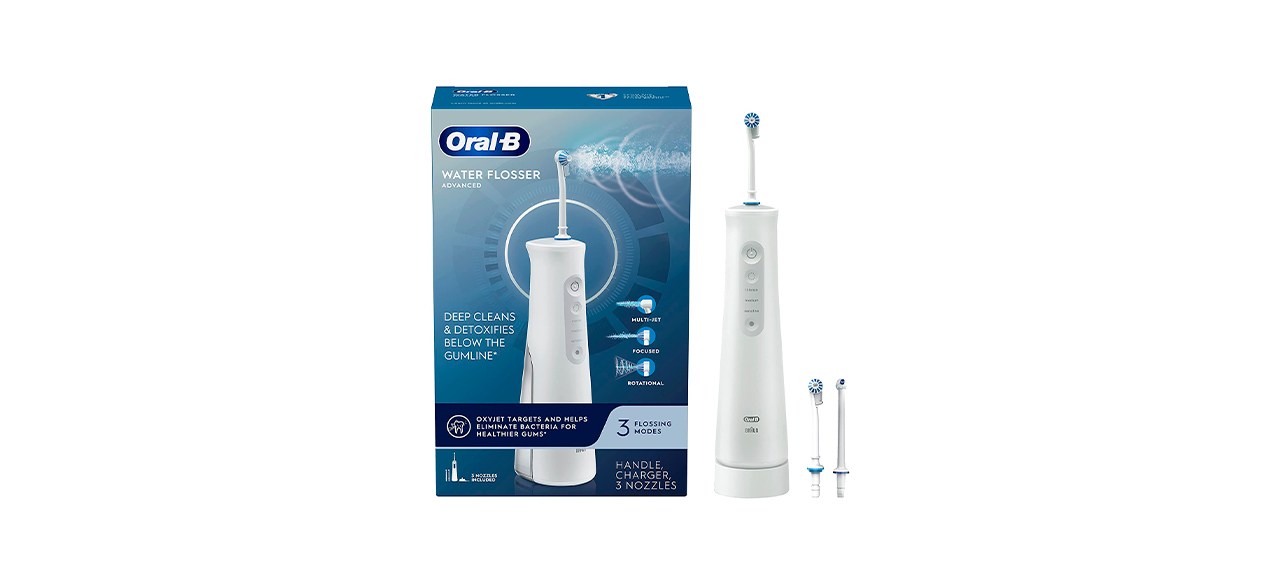 Oral-B Water Flosser Advanced With Three Nozzles
With three jet stream options and three intensity levels, this cordless oral irrigator is an effective tool that helps keep the gums and teeth clean. It comes with two Aquafloss nozzles and a precision jet nozzle. It also has an on-demand button for those who want to target specific areas. Plus, it has Oxyjet technology to reduce plaque and get rid of food particles.
Sold by Amazon
Burst water flosser
Burst was founded in 2017 by Brittany Stewart and Hamish Khayat. The company's mission is to make oral hygiene devices, such as electric toothbrushes and water flossers, more accessible to the public. Burst collaborates directly with dentists and hygienists to create high-end tools that help with people's dental health. The brand has a direct-to-consumer and uses a subscription service for many of its devices.
Burst's line of water flossers is colorful and modern-looking. Each one has tips that can rotate 360 degrees. They also have different pressure modes, such as Turbo, Standard and Pulse, for a targeted clean.
The water flossers cost $60-$100. With a subscription service, you can also receive regular replacement nozzles for $6 a month.
Burst water flosser pros
Depending on the pressure mode, you can do a basic or a deep clean.
The rotating nozzles make it easier to reach back into your mouth.
Modern and stylish, each one is designed to be convenient to use.
It has a long battery life and is rechargeable.
The flosser can turn itself off after a few seconds of inactivity.
The tips are interchangeable, so you don't have to replace the base often.
They're durable and have a textured grip for added comfort.
When you order one, you get a decorative travel bag.
The subscription service is convenient, inexpensive and innovative.
Burst water flosser cons
It can be somewhat loud and messy.
Capable of holding 110 milliliters, the water reservoir is a little small.
It can turn off automatically, which can be inconvenient.
The main difference between each model is the color.
Best Burst water flossers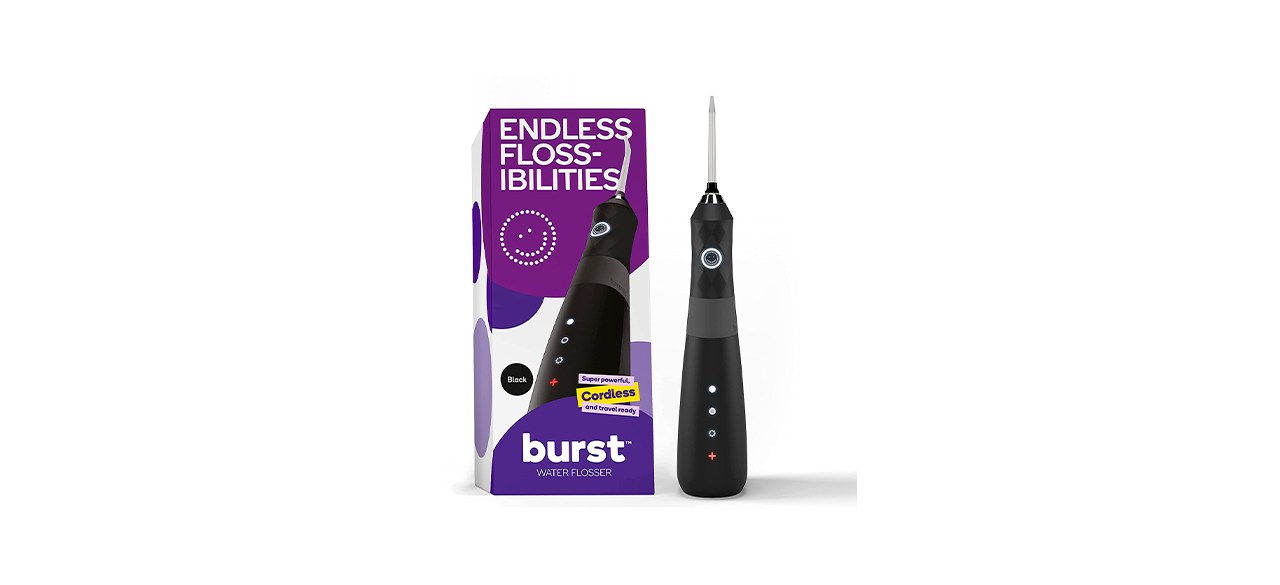 This portable water flosser comes in black and has three pressure modes. It's cordless and water-resistant making it perfect for use in the shower or while traveling. The tip rotates 360 degrees for a more thorough clean.
Sold by Amazon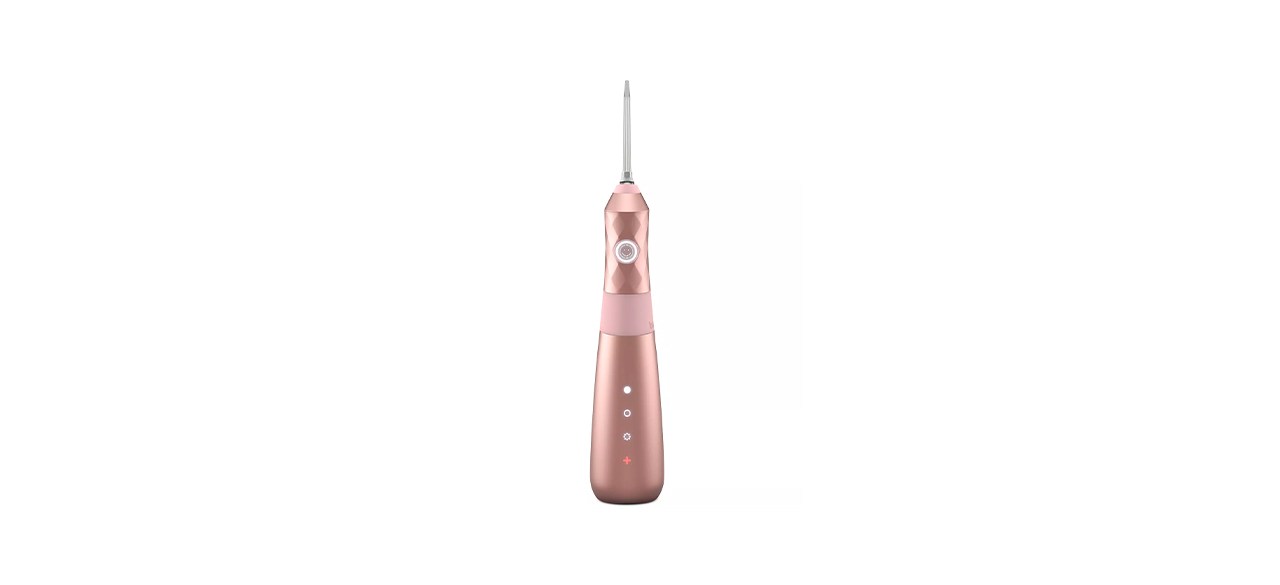 This chic oral irrigator comes in rose gold. It has three pressure settings: pulse, standard and turbo. It's also comfortable to hold and durable.
Sold by Amazon
Should you get an Oral-B or a Burst water flosser?
Oral-B and Burst both offer reliable water flossers that let you thoroughly clean your teeth and gums and remove food debris and plaque you might have missed with regular brushing. They both have several pressure settings and nozzle types, so there's something for everyone. Burst is a good option if you want something compact, sleek and modern at a competitive price point. Oral-B, meanwhile, is better if you have a larger mouth and don't want to pay a monthly subscription.
Want to shop the best products at the best prices? Check out Daily Deals from BestReviews.
Sign up here to receive the BestReviews weekly newsletter for useful advice on new products and noteworthy deals.
Angela Watson writes for BestReviews. BestReviews has helped millions of consumers simplify their purchasing decisions, saving them time and money.
Copyright 2023 BestReviews, a Nexstar company. All rights reserved.