This is an archived article and the information in the article may be outdated. Please look at the time stamp on the story to see when it was last updated.
Which teeter-totters are best?
A playground favorite, the teeter-totter, or seesaw, is more than just a fun distraction. It can teach children how to work and play together, help them develop their muscles and core and teach proper balance. There are several types of teeter-totters, including some that can hold more than two children at once. The best part is that there's no need to dig any holes or install them in a set place. Most use weight distribution to keep them safe while being reasonably easy for an adult to move around as needed.
What to know before you buy a teeter-totter
Teeter-totter motion types
There are three methods a teeter-totter can use.
Fulcrum: This is the classic method and the one most commonly employed. It works by placing the center of the pole on top of, well, a fulcrum. It makes for an unsteady back-and-forth that requires plenty of leg strength to keep going.
Pendulum: This is a more modern take on teeter-totters, with the back-and-forth being centered on the top. It's smoother than fulcrums and still requires leg strength.
Rocking: This type works like rocking chairs in that it has bent bars that rock. This makes them smooth like pendulums but most require core strength rather than leg strength.
Seats
Teeter-totters can sit more than just two children. Some fulcrum teeter-totters double up with a second perpendicular bar to seat four. Rocking teeter-totters often have a third miniature or full-sized seat in the center. Then, there are specialty teeter-totters that take on wild shapes such as an airplane that have five-plus seats.
Age range
Teeter-totters are not created equal in terms of the intended age range. Most are meant for toddlers and the slightly older, saying they're for ages 3 to 8 if it specifies to that degree. Some are big enough to handle kids as old as 10, but anything larger is typically sold to commercial parks.
Weight limit
You also need to consider the weight limit. This is usually given as both a per-seat limit and a total limit. The average per-seat limit is roughly 75 pounds.
How much you can expect to spend on a teeter-totter
Basic teeter-totters typically cost $50-$100. Ones made of better materials or that have more features or special designs cost up to $300 or more.
What are the best teeter-totters to buy?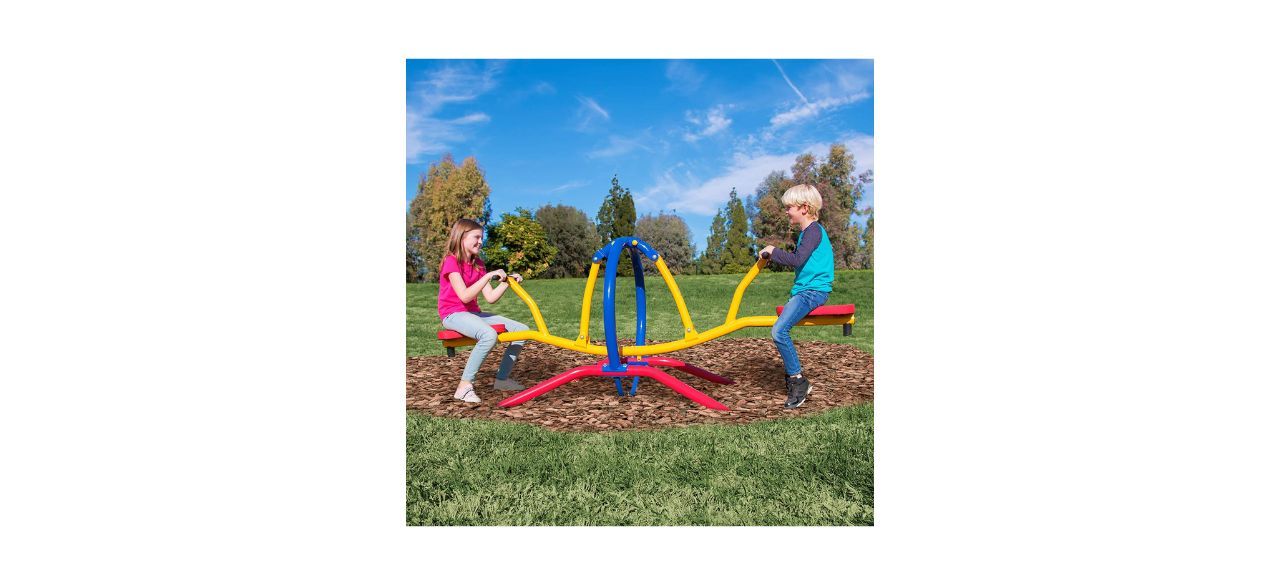 Gym Dandy TT-320 Pendulum Teeter-Totter
Most teeter-totters work by tilting on a fulcrum. This one sways like a pendulum, leading to a much smoother back-and-forth motion. It also has a safety lock for when playtime is over.
Sold by Amazon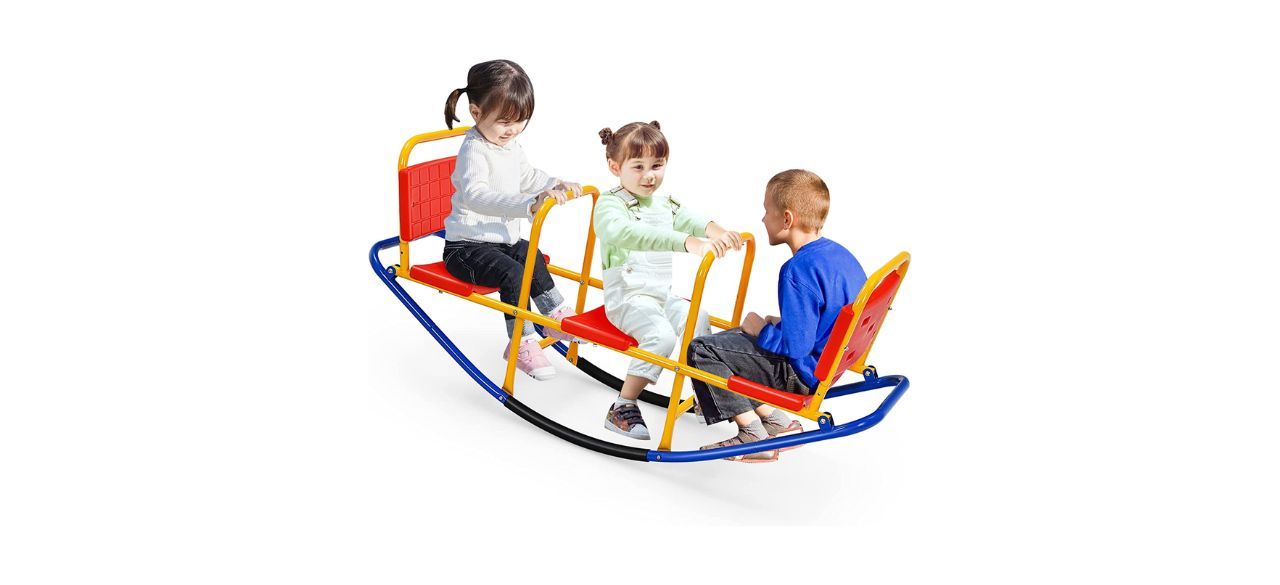 This has an extra seat in the middle so a third child can join in the fun, plus the rocking design offers a smoother up-and-down motion than a classic teeter-totter. It's designed for kids ages 3 to 8 and has a 200-pound weight limit.
Sold by Amazon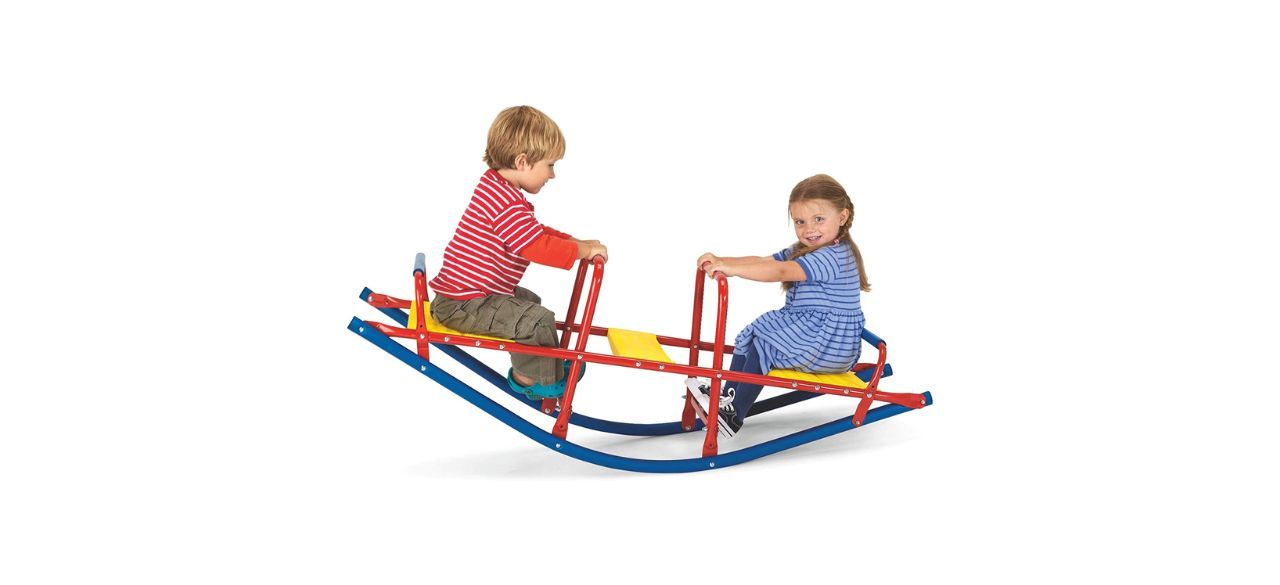 Hearthsong Rocking Teeter-Totter
This solves the dilemma of where you're supposed to put your feet with, well, a footrest. It also uses padded bars as backrests and holds a maximum of 140 pounds.
Sold by Amazon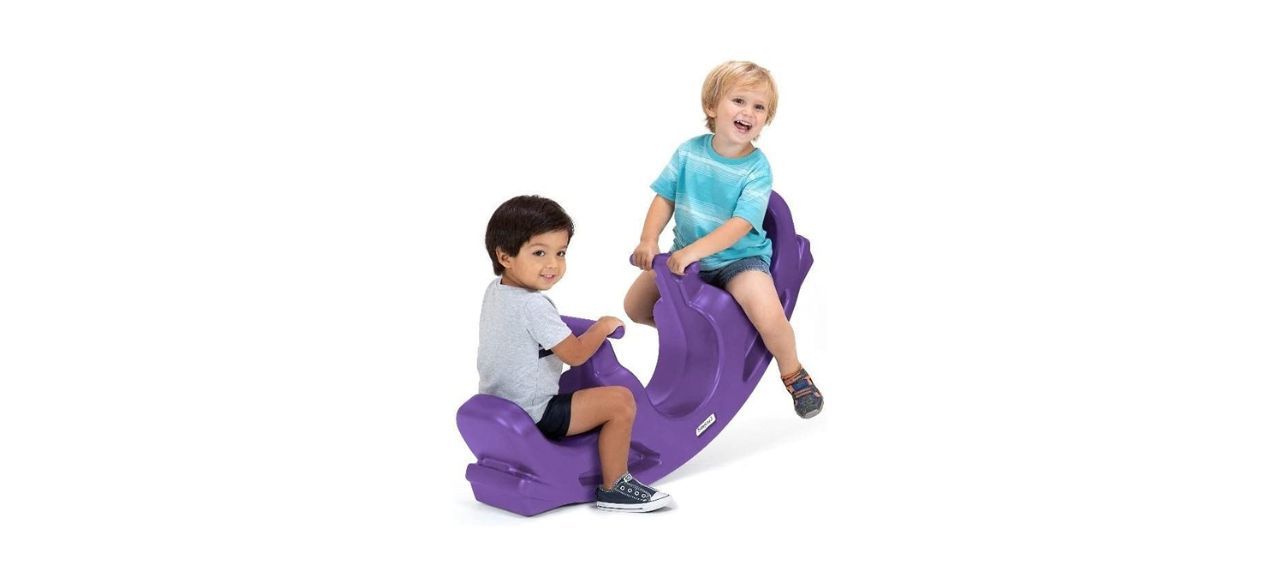 Simplay3 Rock And Roll Teeter-Totter Seesaw
This has comfortable seats and handles so toddlers can rock for ages. It's plastic and weighs 8.8 pounds, so two children can drag it where they want it.
Sold by Amazon, Home Depot and Wayfair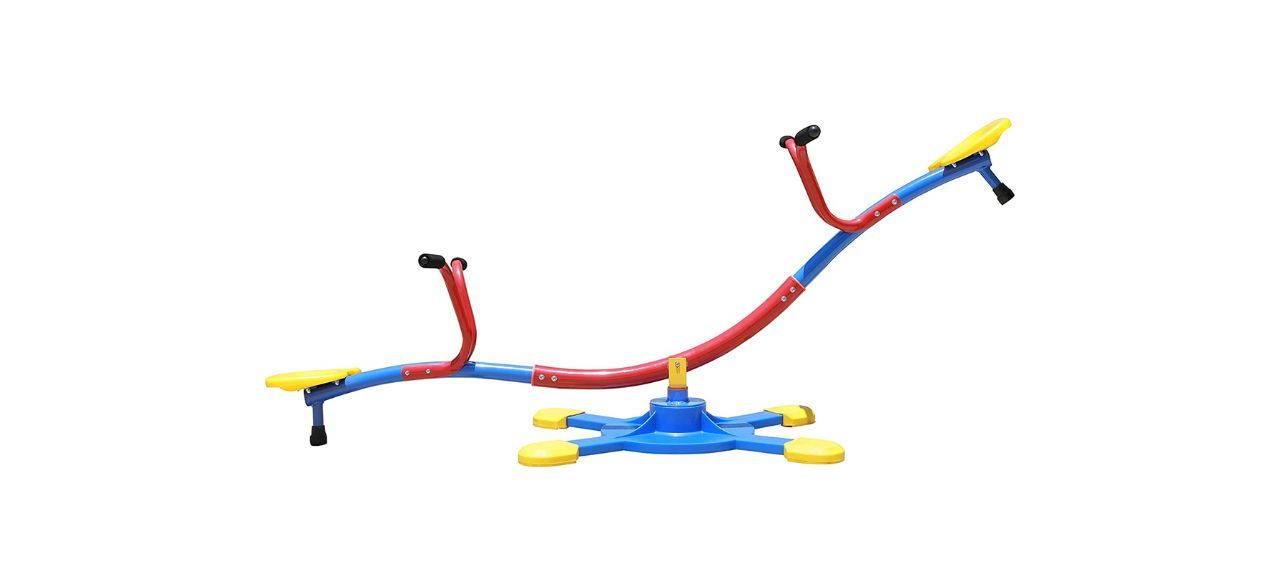 Platports Backyard Playground Seesaw
This brightly colored teeter-totter is a great addition to your yard. The alloy steel is rust-resistant and can hold up to 77 pounds on each end, or 154 pounds combined. It's designed for kids ages 3 to 10.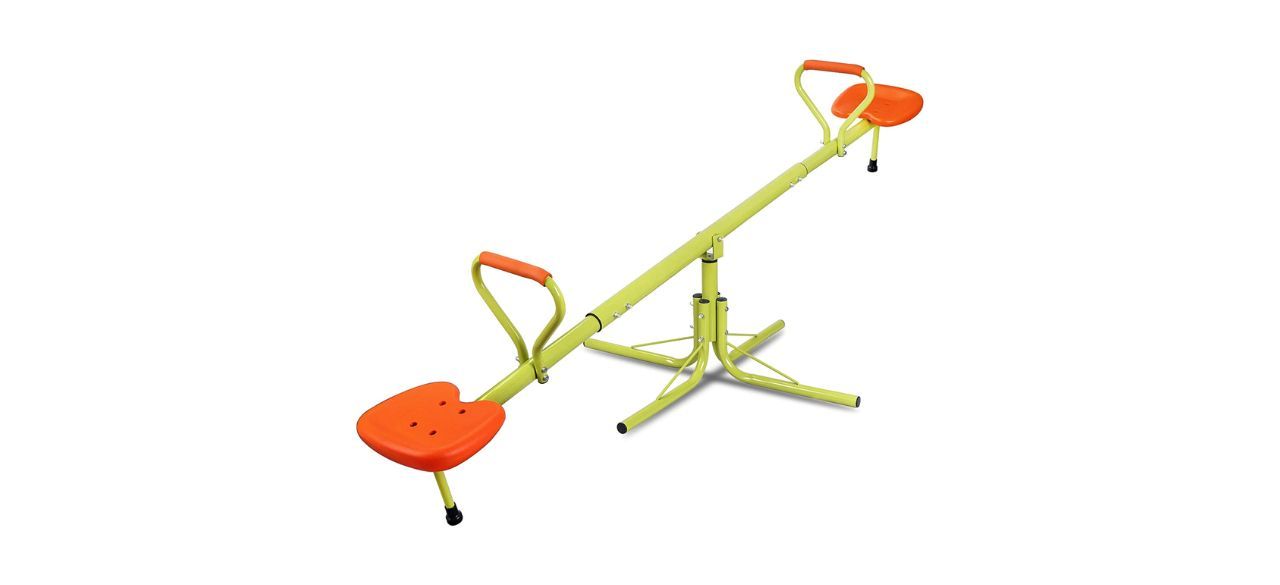 Nova Microdermabrasion Swivel Teeter-Totter (Two Seats)
If you don't need four seats, this two-seater is the same as the four-seat version. Each seat can hold up to 150 pounds, making it great for older kids.
Sold by Amazon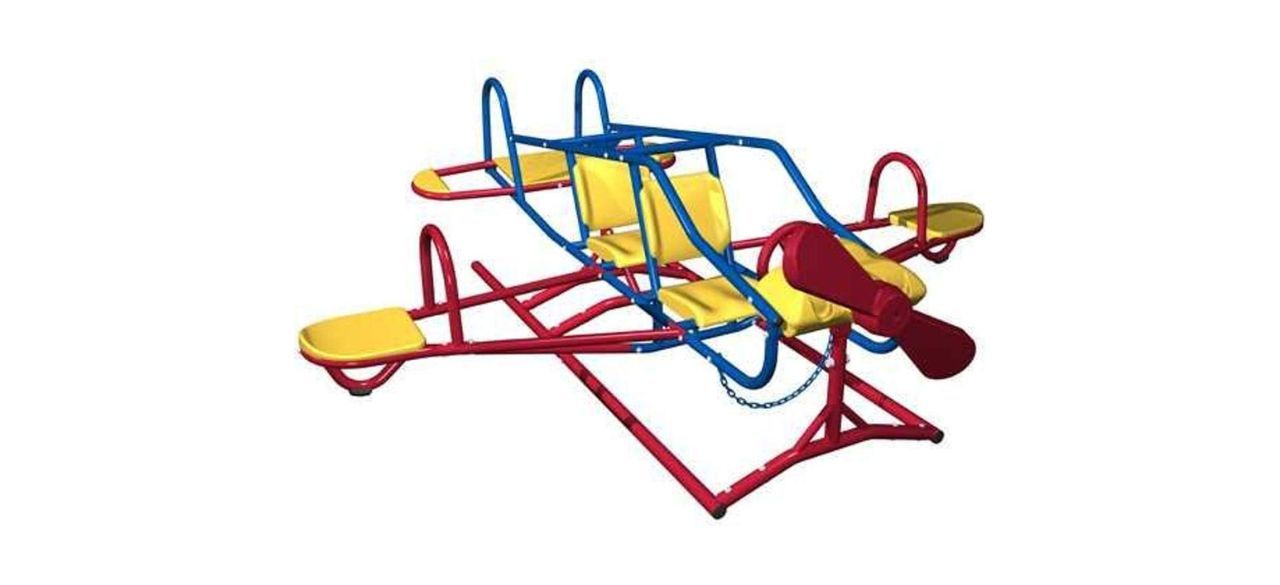 Lifetime Ace Flyer Teeter-Totter
This is among the most extravagant teeter-totters and is sure to be a huge hit for big groups as it can hold up to seven kids at once with a 700-pound total weight limit.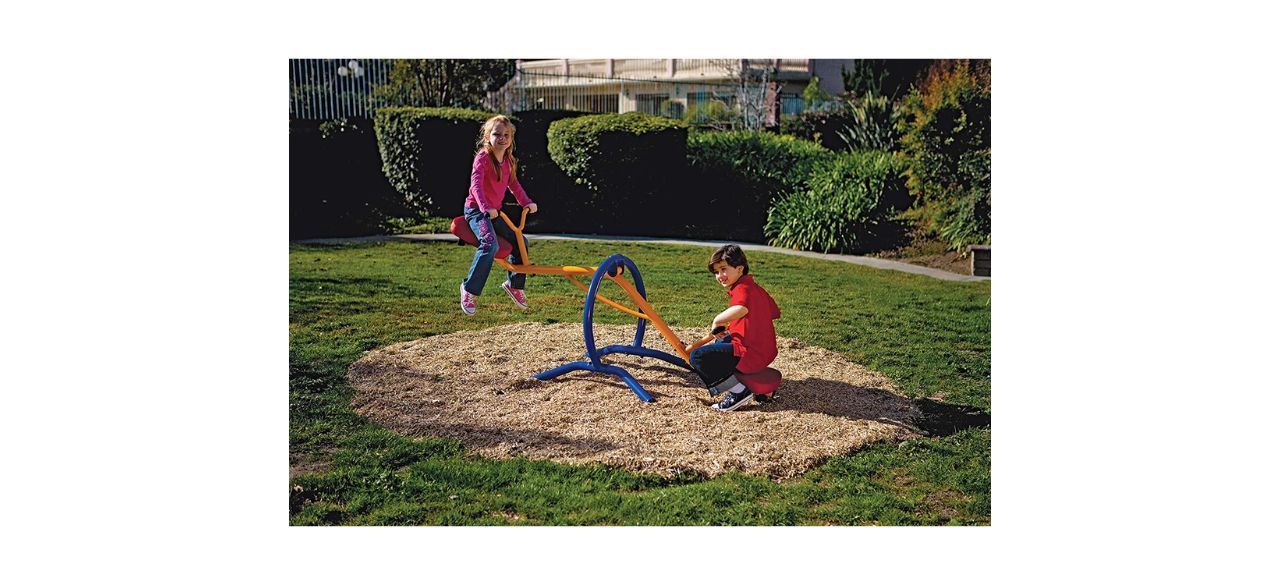 Gym Dandy TT-210 Teeter-Totter
This is a smaller version of the TT-320 for younger children. It still swings like a pendulum and it has a 300-pound weight limit, plus padded chairs and a bump stop under the seat.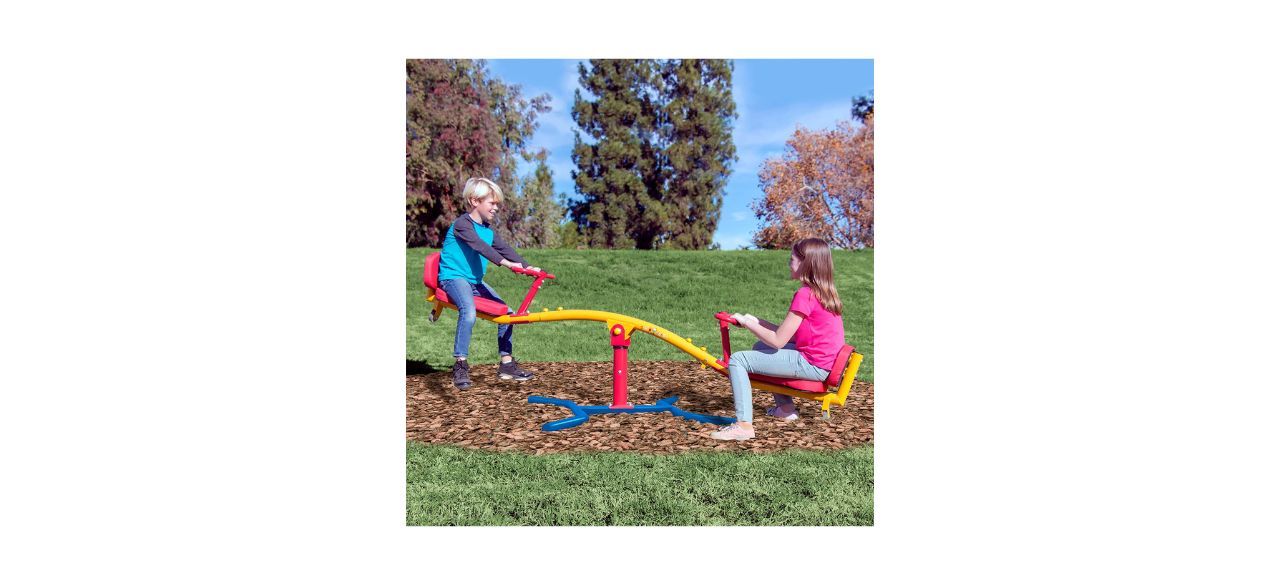 Gym Dandy TT-360 Spinning Teeter-Totter
This is back to tilting on a fulcrum, but it also spins in circles with a wheel on each seat to help it move. The chairs are elongated and padded and have backrests.
Sold by Amazon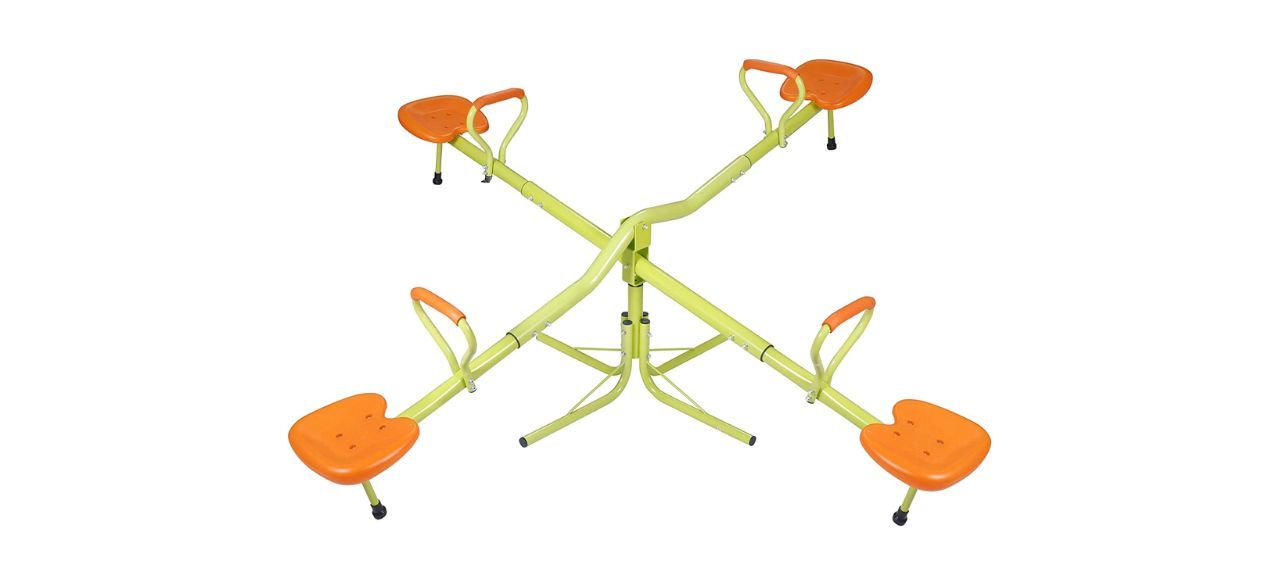 Nova Microdermabrasion Swivel Teeter-Totter (Four Seats)
If you run a day care or just have a bunch of kids, this four-person teeter-totter is a lifesaver. Each two-seat pair is on its own fulcrum and the whole thing swings around 360 degrees.
Sold by Amazon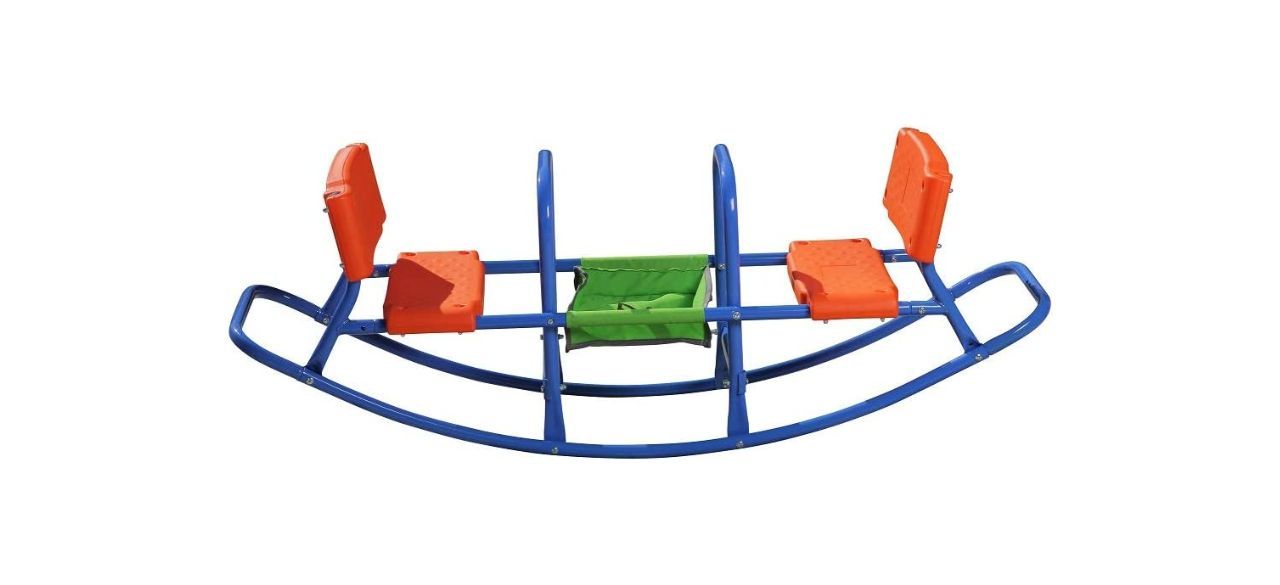 Platports Indoor Rocking High Chair Seesaw
This is excellent for kids who like to stay mobile while playing with other things thanks to the pouch in the center that can hold plenty of toys. The backrests make it comfortable to use for long periods.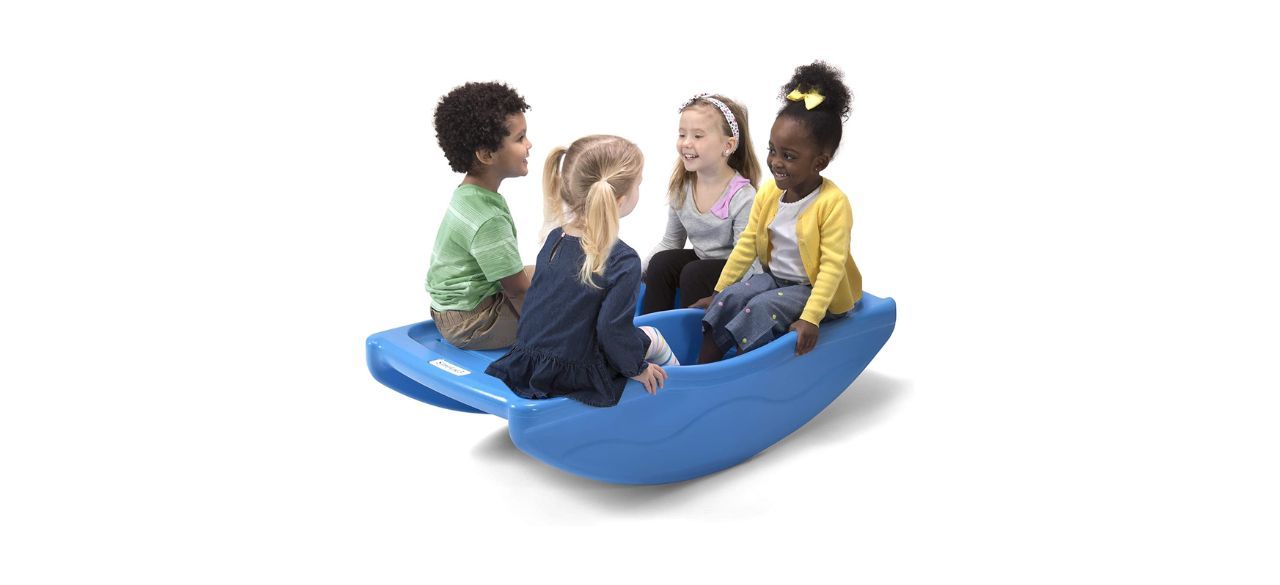 Simplay3 Two-Sided Rock and Roll Teeter-Totter and Climbing Bridge
The main function of this is to let up to four kids rock together, but it can also be inverted to become a step-up bridge. It weighs 20 pounds, so there's less risk of children flipping it on their own and getting hurt.
Sold by Amazon and Home Depot
Want to shop the best products at the best prices? Check out Daily Deals from BestReviews.
Sign up here to receive the BestReviews weekly newsletter for useful advice on new products and noteworthy deals.
Jordan C. Woika writes for BestReviews. BestReviews has helped millions of consumers simplify their purchasing decisions, saving them time and money.
Copyright 2023 BestReviews, a Nexstar company. All rights reserved.